Jump to Recipe
Now I know that everyone and their mom has a good French onion soup recipe. While I'm no exception, this French onion pasta is sure to blow you away! Not only is it packed with the flavor of all those caramelized onions but fresh thyme from the garden! Add in some steak, cheese, and my secret ingredient (high quality soy sauce) and you have a winning pasta dish!
This makes a whole 9×13 pan, so it will feed your family! Not to mention, you'll have leftovers too! If it's any indication of how good this is, when the hubs heated it up in the microwave at work, his co-workers kept popping their heads in to ask what he was eating it smelled so good!
One of my favorite things about having plentiful gardens is I get to have fresh herbs at my disposal much of the year. This recipe is no exception! I have a whole patch of lovely French thyme in one of my raised beds. The great thing is, it's a perennial plant, so every year it comes back in a little bigger patch! Now you can definitely use dried thyme for this recipe if you don't have access to fresh. Dried thyme is actually very high in vitamin K and high in manganese and iron. It's fresh counterpart, contains significant quantities of vitamin C and A, iron and manganese.
This recipe does take a bit of time as you have to caramelize a whole crap ton of sweet onions. So if you're looking for a super quick recipe, this is not it. Good caramelized onions take at least an hour. While it's a labor of love, the flavor is totally worth it! So let's get caramelizing some onions, without further ado, French onion pasta!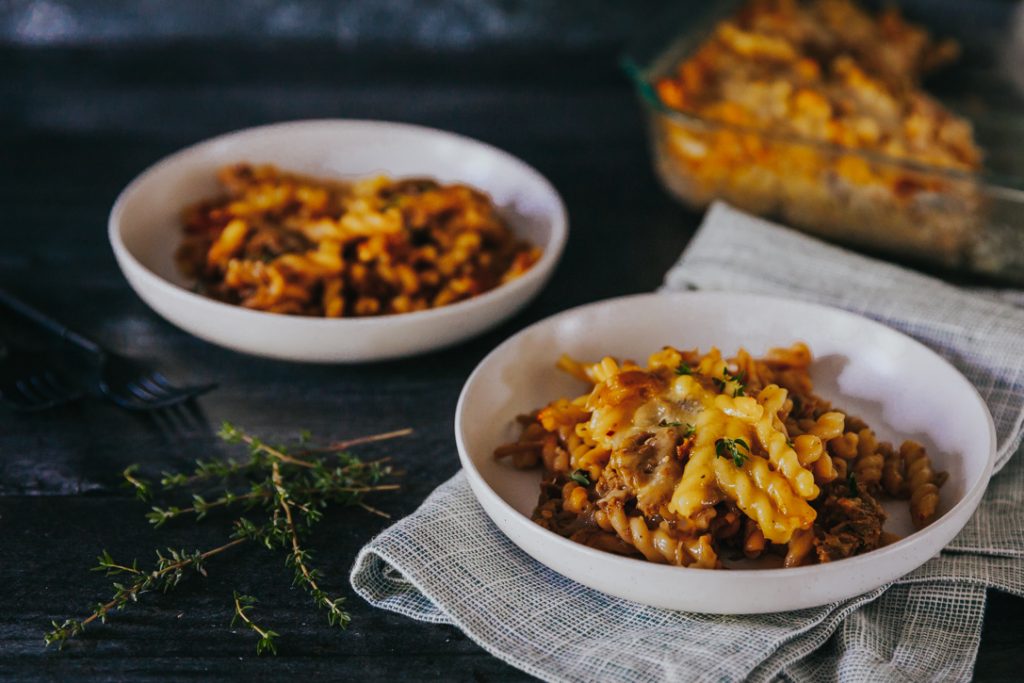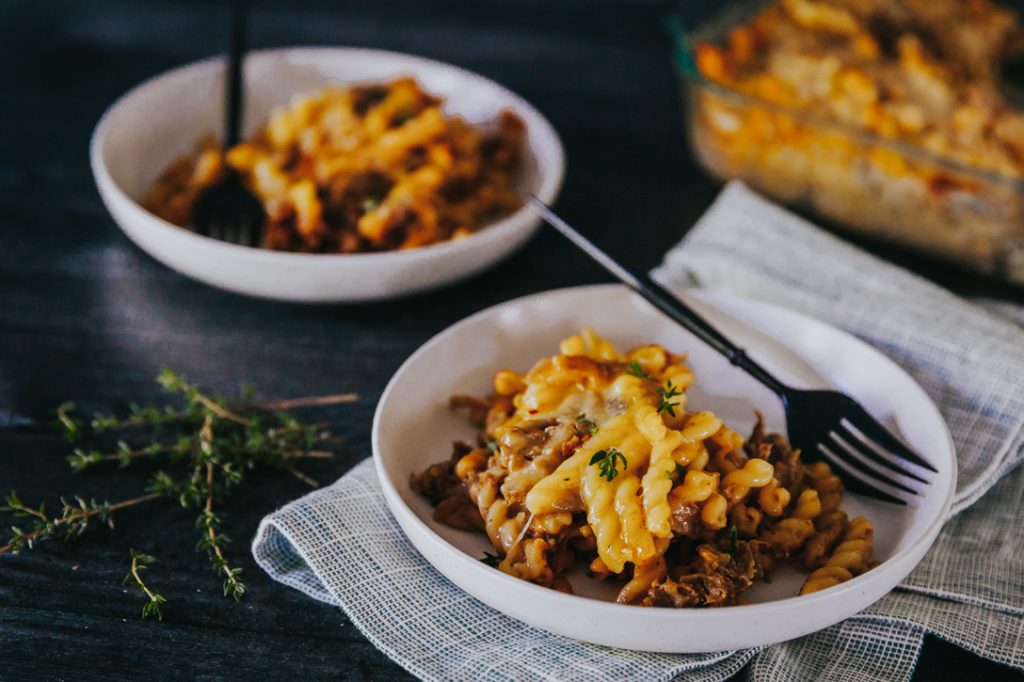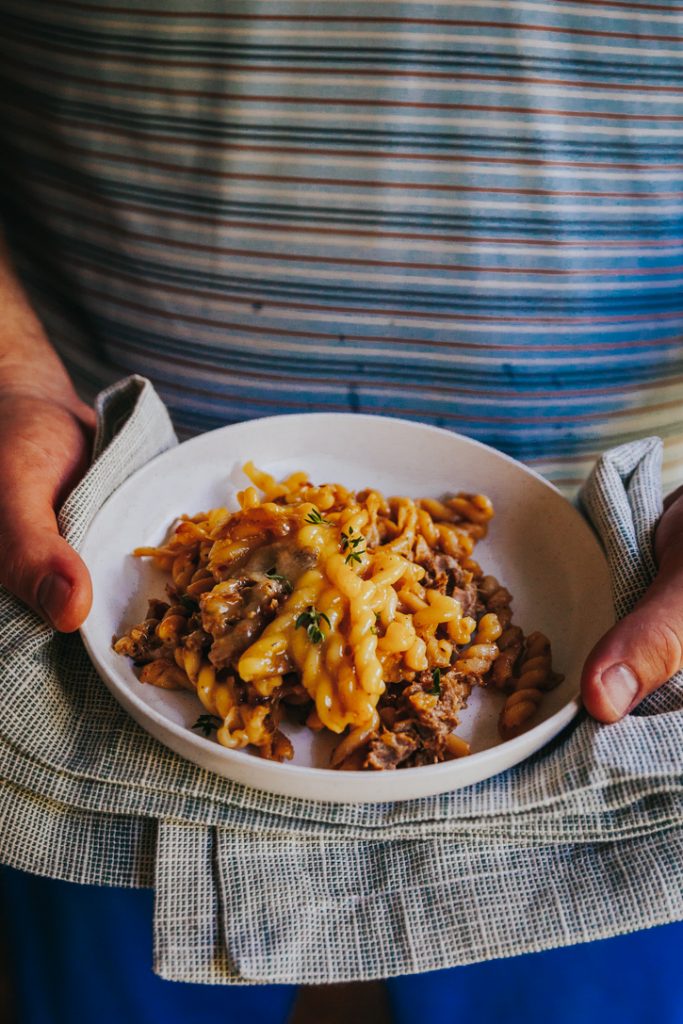 For Us Below On Social for More Recipes and Content!!
• Tik Tok • Facebook • Pinterest • Instagram • Twitter • More Recipes •
French Onion Pasta
Imagine French onion soup flavors but made into pasta! Caramelized onions, steak, and cheese make up this delicious recipe which will soon be a family favorite!
Ingredients
2

tbsp

butter

5

large

sweet onions, sliced

2

whole

shallots, sliced

3

tbsp

high quality soy sauce

1/4

cup

brown sugar

1

tsp

red pepper flakes (more or less to spicy taste)

1

tsp

fresh ground black pepper

1

tsp

garlic powder

1

bunch

fresh thyme (can substitute 1 tsp dry thyme)

1

lb

thinly sliced beef

10

cloves

fresh garlic, minced

1

lb

pasta

(I used gemelli but bowties, rotini, fusilli all work well too!)

1

12 oz

can of evaporated milk

1

cup

grated gruyere cheese (swiss works too!)

8

slices

provolone cheese
Instructions
Slice all your onions. In a large pot, melt your butter and add onions, shallots, soy sauce, brown sugar, garlic salt, red pepper flakes, black pepper, and thyme. Saute on medium for about an hour, stirring occasionally or until onions are deep brown in color and caramelized. Now add your thinly sliced steak and garlic. Saute until steak is cooked. Set aside. Preheat oven to 400°. Boil water. Once boiling, add salt, and cook pasta, reducing cooking time by a third (to prevent overcooking in oven). Remove thyme bundle if in your beef onion mixture. Add cooked pasta to beef and onion mixture along with can of evaporated milk. Stir everything until well combined. Spray a 13x9 with non-stick spray and pour in pasta mixture. Top with grated gruyere and provolone. Cover with a piece of foil and bake in oven for 20-25 minutes until cheese is all melted and pasta is bubbling. Remove from oven, let set for 5 minutes and then serve immediately. Enjoy!