Jump to Recipe
It's beginning to be the beginning days of fall, where you crave some comfort food.  This old fashioned tapioca definitely fills that craving! This pudding is not only creamy and fluffy (because of the whipped egg whites!) but the mint berry topping is delicious.  It's also a great way to use all that mint in your mint patch! By soaking large tapioca, instead of using the more common minute small tapioca, you get to enjoy the complexity large pearls bring to a good tapioca pudding. 
Now you should know, this recipe requires A LOT of stirring.  So if you don't have time to be stirring pudding over the stove for 30 minutes, this recipes might now be for you.  Is it worth it? Definitely. But it definitely is a time consuming recipe. You'll be left with some of the creamiest fluffiest pudding you've ever had! 
A great tip if you pack lunches, use small mason jars and make your own pudding cups! They're great with the mint and berries in the recipe but you can also top with many good choices! Some of our favorite toppings are jam, frozen berries, chocolate, nuts, or coconut! You can make it your own and have preservative free pudding cups (that are 110% better then the store bought stuff). It lasts in the fridge for a week too!
For those who don't know, tapioca is made from grinding up the cassava which is a rooty tuber type vegetable.  Tapioca is also completely grain free and a good dessert alternative for people who can't have any wheat or gluten products. It also is cholesterol free and has a bit of dietary fibers.  Most people know tapioca when it's used in their boba tea (one of my favs). Tapioca pearls for boba come in a wide variety of colors and flavors! So without further ado, I give you, Old-Fashioned Tapioca topped with berries and mint.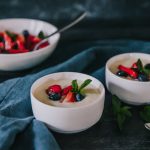 Print Recipe
Old Fashioned Tapioca with Mint and Berries
A super comfort dessert! Old-fashioned tapioca pudding made with large pearls is sure to hit the spot! Topped with berries this is going to be a new favorite!
Ingredients
For the Macerated Berries
2

cups

sliced strawberries, blueberries, or any berry you'd like

2

tbsp

sugar

1-2

tbsp

finely chopped mint (also great with basil!)
For the Tapioca Pudding
2

cups

large pearl tapioca (soaked according to bag instructions)

1

cup

sugar

5

cups

milk (would use 1% or higher)

4

eggs

yolks and whites separated

1

tsp

salt

1

tbsp

vanilla

**only add at once pudding is done cooking

2

tbsp

butter

**only add at once pudding is done cooking
Instructions
For the Berries
Roughly chop up your berries (I used strawberries and blueberries). Mix in your sugar and mint until well combined. Set aside to macerate for a few hours in the refrigerator.
For the Pudding
****Important to check your tapioca pearls for the required soaking time. Some require overnight while some are only a few hours.***

In a large pot, turn your oven on medium high heat. Add five cups of milk, 1 cup of sugar, 1 tsp salt, soaked tapioca pearls, and your four egg yolks. Make sure to remove the white string part from the egg yolks (called the chalaza) to avoid any cooked protein pieces from the egg. Save your egg whites in a separate bowl for whipping. Whisk everything until well combined and then constantly stir until pudding becomes thick and starts lightly bubbling (takes about 30 minutes). Once it thickens, remove from heat and stir in vanilla and butter until melted and well combined. While this is cooling, whip your egg whites until they form stiff peaks and then fold into pudding and mix until well combined.

You can serve this immediately hot or enjoy cold as well! Top with your berry mixture and enjoy that comfort food goodness!