Looking for a go to summer sandwich that would work for the overabundance of tomatoes you have? If you're like me and your garden is currently bursting with tomatoes, then do I have a recipe for you! Not only will this upgrade your BLT game but frankly, these fried green tomatoes are delicious just by themselves! Sometimes, I'll just whip up a batch of fried green tomatoes and serve them with this yummy garlic aioli. This is a great way to use green tomatoes, especially if you have to pick them at the end of the season before a frost.
Now, fried green tomatoes are a regular staple all throughout Maryland and the south. Breading choices can vary based on where you are too! I have opted to use a combination of corn meal and panko bread crumbs. Depending on where you are in the States, you could have one breaded in all cornmeal, all in breadcrumbs, or all in panko however, I like mine with a little spice. Sooo I use Cajun seasoning but some places use fresh herbs, good ole salt and pepper, or make it real spicy. But I've even had them where they add parmesan to the breading. After trying many varieties though, this one is still my favorite!
As for bread, I chose to use some homemade malted wheat buns. However, the possibilities are endless! You can use white bread, burger buns, low carb wraps, the sky really is the limit! We topped ours with shredded romaine, red onion, and bacon, but they're also really good with a fried egg or a slice of cheese too! But enough talking, let's get cooking!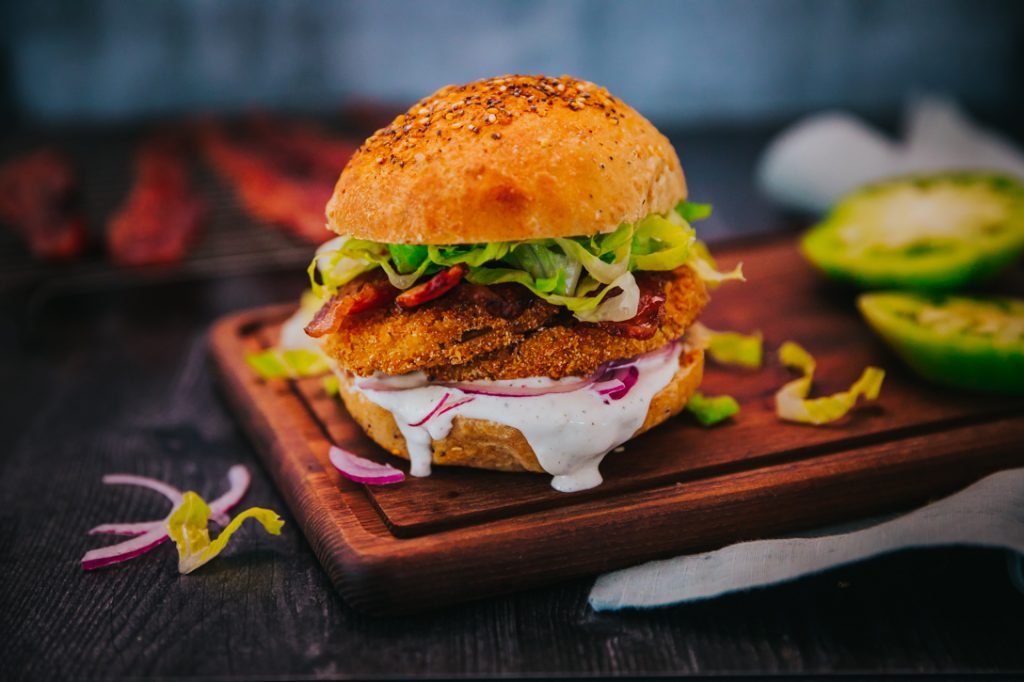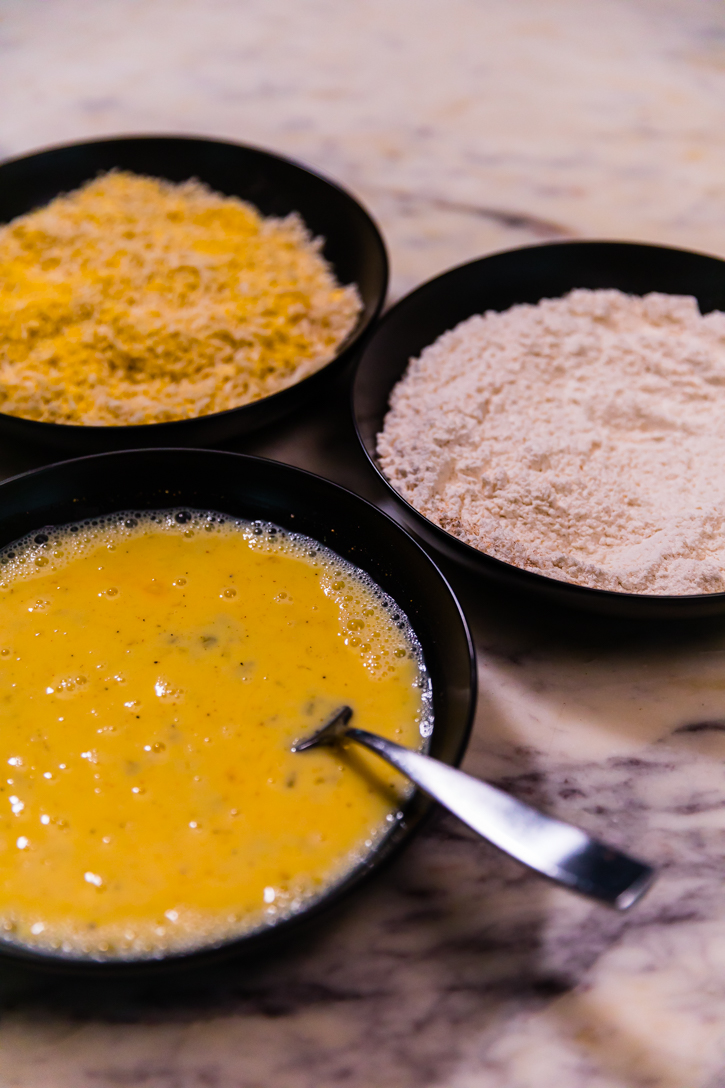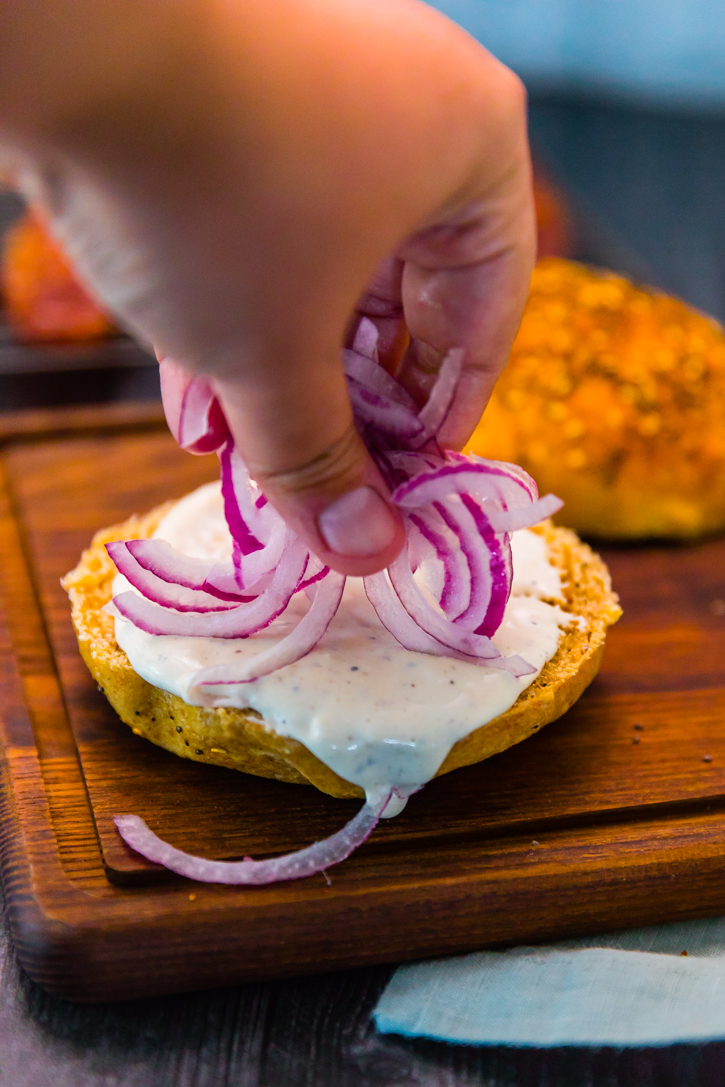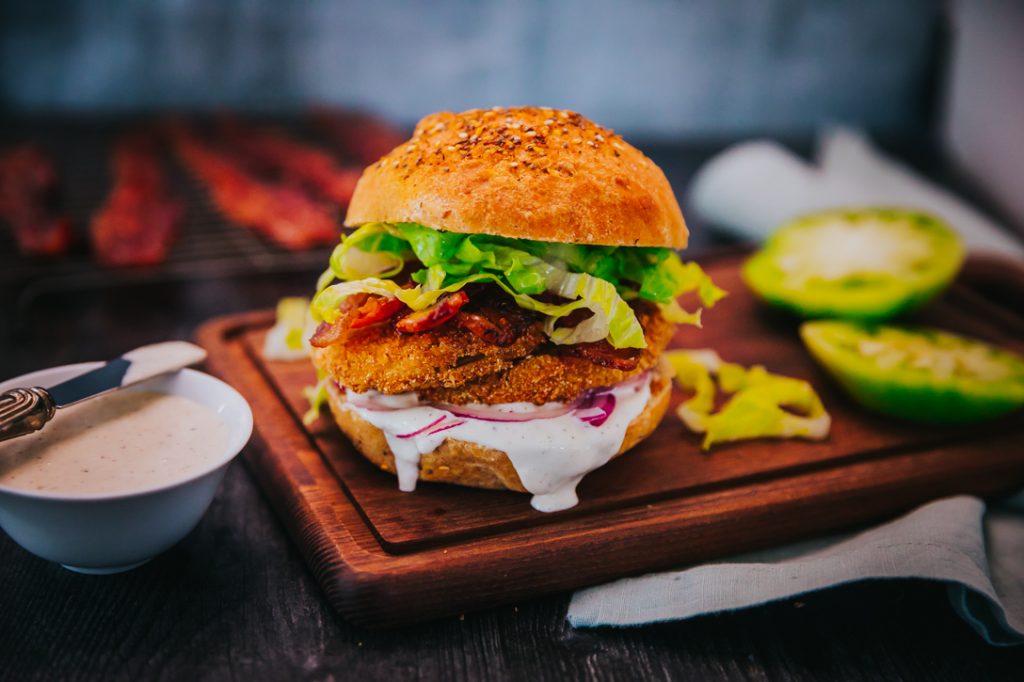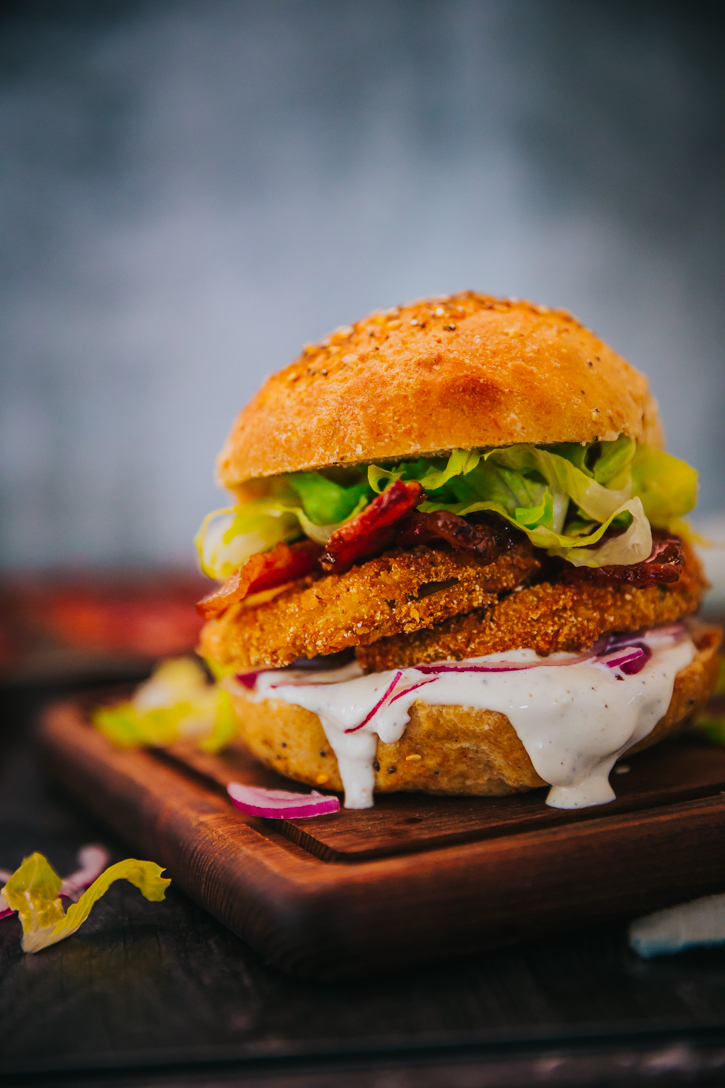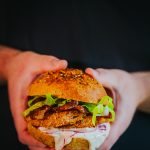 Print Recipe
Fried Green Tomato BLT w/ Garlic Aioli
The perfect twist on your classic BLT sandwich. With local gardens and farmer's markets overflowing with tomatoes right now, it's the perfect time to use those green tomatoes! Make sure the green tomato you use are very firm when you're picking them out for this sandwich!
Ingredients
For the green tomatoes
2

large

firm, and round green tomatoes, sliced to about 1⁄4 inch thick

1

cup

panko

1

cup

cornmeal

1

cup

flour

2

eggs

1/4

cup milk

1

tbsp

Cajun seasoning

distribute evenly among three bowls

1

tbsp

garlic powder

distribute evenly among three bowls

Lot of fresh ground black pepper

distribute evenly among three bowls

Oil for frying
For the Garlic Aioli:
1/2

cup

mayo

Juice of 1 lemon

1/2

tbsp

dijon mustard

optional

3

garlic cloves

minced or crushed

Fresh ground black pepper to taste
For the Sandwiches:
5

buns or bread for 5 sandwiches

1

lb

cooked bacon

*can sub vegan or turkey bacon

Choice of toppings

lettuce or greens, red onion, fried egg, etc
Instructions
Instructions:

Mix together all the aioli ingredients and set in fridge.

Make breading stations. In one bowl whisk eggs and milk, second bowl place flour, third bowl mix panko and cornmeal. Divide Cajun seasoning, garlic powder, and pepper between the three.

Slice tomatoes and place in egg mixture, flour mixture, back to the egg mixture, and then the panko/cornmeal mixture. Press down to ensure panko sticks.

On medium heat, heat about 1⁄2 inch of oil in a pan until it reaches 350°. Add tomatoes, cooking about 1.5 minutes on each side until golden brown. Place on cooling rack.

To assemble, smear aioli on both sides of your bread, top with your toppings like lettuce, bacon, fried tomatoes, and red onion. Enjoy!

*Tips – Cook your bacon in the oven on baking sheets for perfectly cooked bacon every time! -Sprinkle a little brown sugar and red chili flakes on your bacon for a little sweet heat!
Follow Us Below On Social for More Recipes and Content!!
• Tik Tok • Facebook • Pinterest • Instagram • Twitter • More Recipes •