Jump to Recipe
I, like most people during this pandemic, kind of lost a bit of my creativity and motivation.  With everything going on, just getting out of 10 years of working in a corporate setting, building a house, starting a business, and then BOOM pandemic, I was in super burnout mode and terribly unmotivated to do anything creative. I tried (and failed) to start this $20 or less series and it kind of fell off the map.  So I'm starting to get my creative juices flowing and starting to blog again!
Truthfully, the thing I've really been focusing on this pandemic is learning to make videos (mostly for tik tok) and our yard and gardens! We've been swamped this year putting in TWELVE new raised garden beds.  The longest one is 9 1/2 feet for size reference! Between moving literal tons of dirt and stone and getting my planting on, I've been a busy beaver making our property as green and self-sufficient as possible.
After we finish putting all our beds in, we're doing a little raised pond that will drip-irrigate all our beds, as well as getting chickens, a nice coop, and a chicken run for all of them throughout the gardens! We've planted more cherry, peach, pawpaw, and apple trees this year too! Slowly but surely, everything is starting to come together! Plus, being able to have fresh produce year round for photos is always going to be a bonus!
But, in honor of all my garden produce, which is producing sooooo many peppers right now, I've made these jalapeno popper scones! These are super yummy! They freeze very well too if you want to make them ahead of time! This morning I even sliced one in half and served with some smash avocado and fried egg, double nums!  So grab that food processor and make these super easy but packed with flavor scones!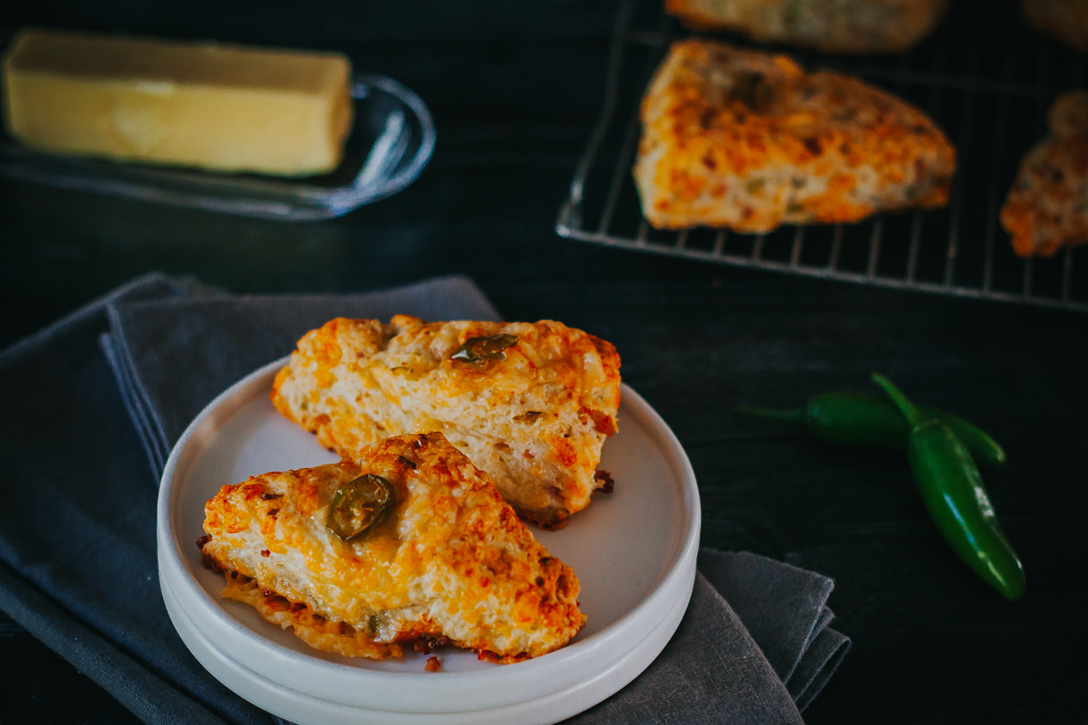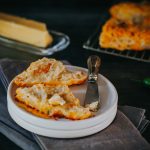 Print Recipe
Jalapeños Popper Scones
Delicious twist on scones! Loaded with bacon, sharp cheddar, jalapeños, and scallions, these are sure to be a favorite with any meal! Great recipe for using all those peppers from your garden!
Ingredients
2 1/2

cups

bread flour

1/2

cup

cold unsalted butter, cube

1/2

tbsp

baking baking powder

1/4

tsp

baking soda

1

tsp

garlic salt (recommend Lawrys)

1 1/8

cups

buttermilk

2

cups

freshly grated sharp cheddar (save 1/2 cup for top of scones)

do not use pre-shredded cheese, it won't cook the same!

2-3

whole

jalapeños (finely chopped, save some for top of scones)

6

pieces

soft cooked bacon, chopped

3

whole

scallions, thinly sliced
Instructions
Preheat oven to 400° F. In a food processor, combine flour, sliced cold butter, garlic salt, baking soda, and baking powder. Pulse until it forms a nice crumble. Chop your bacon, scallions, and jalapeno (remember to save some slices for the top of your scones). Grate your cheese and set aside 1/2 cup for the top of your scones. To your flour mixture in the food processor, add buttermilk, chopped ingredients, and cheese. Pulse a few times until combined (don't over mix!). Pour out on a flat surface and form a rectangle. Cut dough into desired triangles. Cover a baking sheet with parchment paper. Place dough triangles on baking sheet. Sprinkle with saved cheddar and slices of jalapeno. Bake in oven on middle rack for 22-25 minutes until golden grown on top. Remove from oven and serve immediately or save for later! Good hot or cold! Freeze well too! Enjoy!
Follow Us Below On Social for More Recipes and Content!!
• Tik Tok • Facebook • Pinterest • Instagram • Twitter • More Recipes •