I know, I know.  Weird.  I know.  I thought the same thing too.  That is until I was visiting my sister in New Orleans a few years back and was told I needed to try this peanut butter bacon cheeseburger at Yo Mommas (now known as Port St Peter) and it was, without a doubt, one of the best burgers I've ever had in my life.  I don't know what food magic is being created with this weird combo, but the saltiness of the bacon and the sweetness of the peanut butter make this unbelievably delicious combination.  I've mixed it up a bit and candied the bacon with maple syrup, so prepare yourself for your mind to be blown.
Little cooking trick to the wise, bacon is best if cooked on a sheet pan in the oven.  Not only does it cook evenly, but you also avoid all those possible oil burns from splattering bacon on the stove top.  It also helps make the most delicious maple bacon.  With just a little drizzle of 100% pure maple syrup, it takes bacon to a whole other level of awesome.  So fire up your grills and get ready to indulge in this weird, but amazing combination!
Maple Bacon Chipotle Burgers
Unique burgers but well worth all the work, one of the best burgers you'll ever have! A little spice, a little sweet, and a little salty! Perfect for all your burger lovers out there!
Ingredients
1

lb

thick cut bacon (we like the uncured bacon from Costco)

1/4

cup

of 100% pure maple syrup

1

lb

ground beef (make sure it has fat in it to ensure juiciness so 80/20 or 85/15 work best!)

1/2

cup

creamy peanut butter

1

tsp

chipotle powder

4

slices

cheddar cheese

4

hamburger rolls (we like potato rolls)

salt, pepper, and garlic powder to taste
**Optional
Burger toppings, lettuce, tomato, onion, pickles
Instructions
Preheat oven to 375°, place bacon strips evenly on baking sheet. Drizzle with 1/4 cup of maple syrup. Place in oven and cook until golden brown and crispy (about 30-40 minutes).




***Please note, you can't drain the fat on paper towels with this bacon like most. Because of the sugar in the maple syrup, it will just cause them to stick to the paper towels and make a mess. I recommend as soon as you take the bacon out of the oven to place the cooked strips on a plate so most of the fat stays in the baking sheet, or place bacon on a mesh cooling rack with a paper towel underneath it. You'll thank me!

In a bowl, combine peanut butter and chipotle powder (if you want the peanut butter 'liquidy' put in the microwave for 30 seconds). Set aside. Heat up the grill. For burgers, divide meat into four patties (place a div0t in the center to ensure juiciness), salt and pepper each side to taste. Grill until cooked to preferred temp. Toast buns. Top each burger with cheddar cheese. Remove from grill. Top each burger with bacon pieces, peanut butter, and place preferred toppings.

**If you want to be a little 'extra' put a tsp of maple syrup on top of you hamburger rolls (rub around evenly), sprinkle with sesame seeds and chipotle powder and bake for 5 minutes, or until sesame seeds are toasty.**


Serve immediately and enjoy!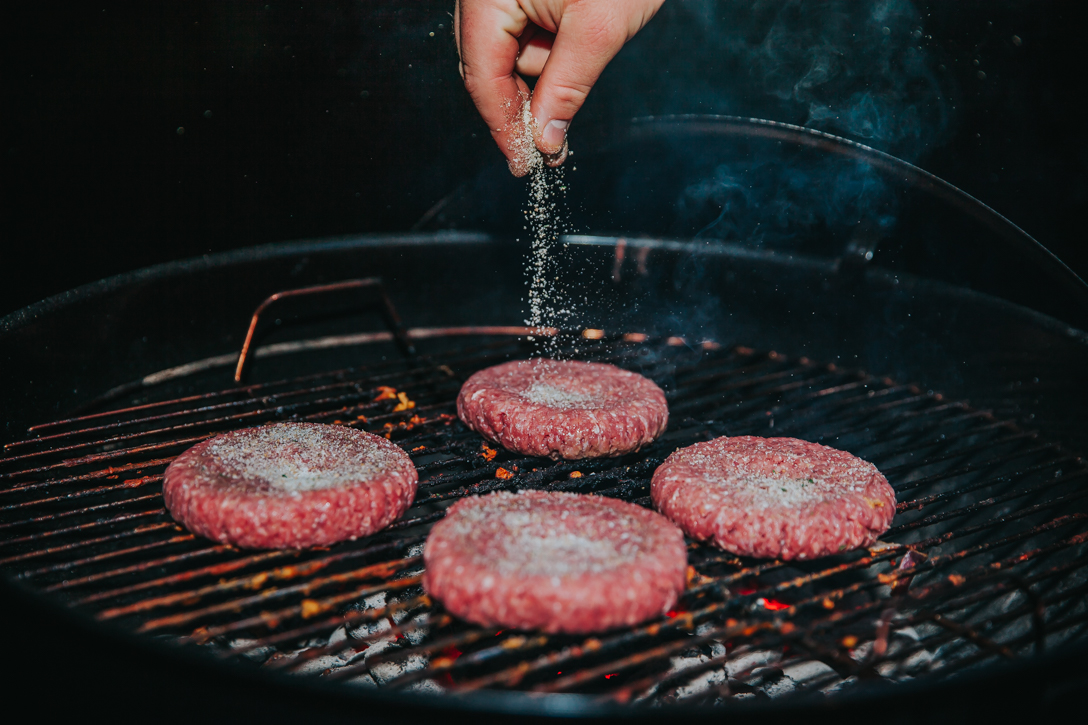 Here's a little burger build gif.  Thanks to my dad for making his guest hand model debut while my hubby is away!