It's that time again for another post for our Local Project featuring Fitz Farm, and not only their long neck pumpkins but their kale as well!  I was first introduced to Fitz Farm when I had a meeting with Cindy of York's Central Market.  She was interested in our Local Project and wanted to meet me and introduce me to some of their vendors!  Fitz Farm has been a staple at York's Central Market for over 80 years!  The husband and wife team behind the operation now still gets help from their three kids and son in law who are always there to lend a hand. Their market stand can be found at York Central Market year round (opened Tuesday, Thursday, and Saturday).  And not only that, Fitz Farm has maintained the exact same stand, in the exact same location for all that time!  The stand is known as Dennis Fitz Home Grown Fruits & Vegetables by regulars. They've been farming since the 1920s on their 25 acres of farm land for 3 generations!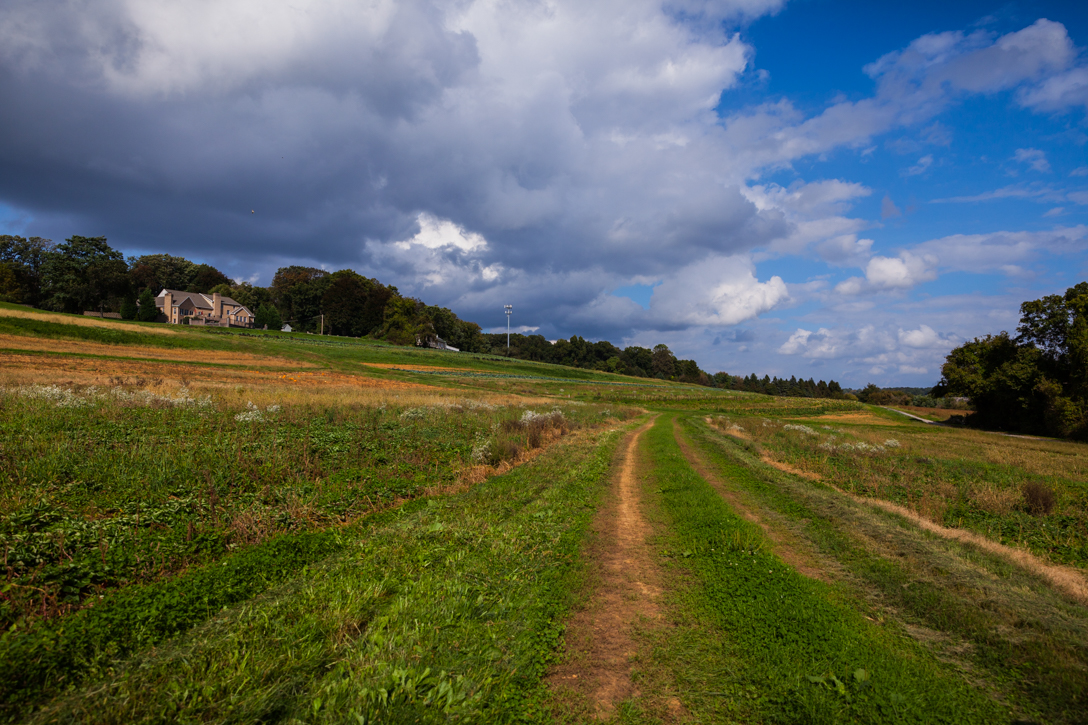 With over 40 varieties of fruits and veggies, you can understand why their stand is always a hit! While known for their strawberries, tomatoes, extra-sweet carrots, and corn, they also grow flowers from midsummer to fall that the local's can't get enough of!  Many people head out to their farm between May-June to fresh pick strawberries as well!  If you have never had a fresh-picked strawberry, you should mark your calendars and do this next year!  Right now at their farm, they're selling pumpkins, gourds, and decorative squash for all your holiday needs!  They're actually the farm handing out pumpkins & gourds for York Central Market's PumpkinFest (if you're a kiddo in a costume that is!) this year on Saturday, October 20th from 11am-2pm.   You'll be able to participate in Pumpkin Decorating, as well as Trick-or-Treating at various stands (you'll get Fitz pumpkins at their stand!) and listen to live music!
So while you're at PumpkinFest, now you can say you know where some of your pumpkins came from!! Today, we're featuring Fitz Farm's Long Neck Pumpkins (yes, you can eat those!) as well as their Curly Kale.  Neck Pumpkins are great for roasting and eating, not only are they large with lots of delicious meat, but unlike many pumpkin varieties, they aren't stringy and have a wonderful sweet flavor when roasted!  Today we're roasting up their neck pumpkins, placing them on some chopped kale, loading it with veggies, cheese, and grains, and drizzling it with a lovely lemon tahini dressing.  If this salad doesn't scream Fall to you, I don't know what will!  Look at those colors! And seriously, this dressing alone could stand by itself.  Add in this yummy local pumpkin and kale, and you have a fall favorite! I know this looks like a lot of steps, but really, while the pumpkin is roasting, you prep the other ingredients and by the time it comes out of the oven, you'll be set for a delicious meal! Plus, most of the ingredients are staples in most households!  So without further ado, I give you this yummy salad recipe (with a little stop motion video to boot)!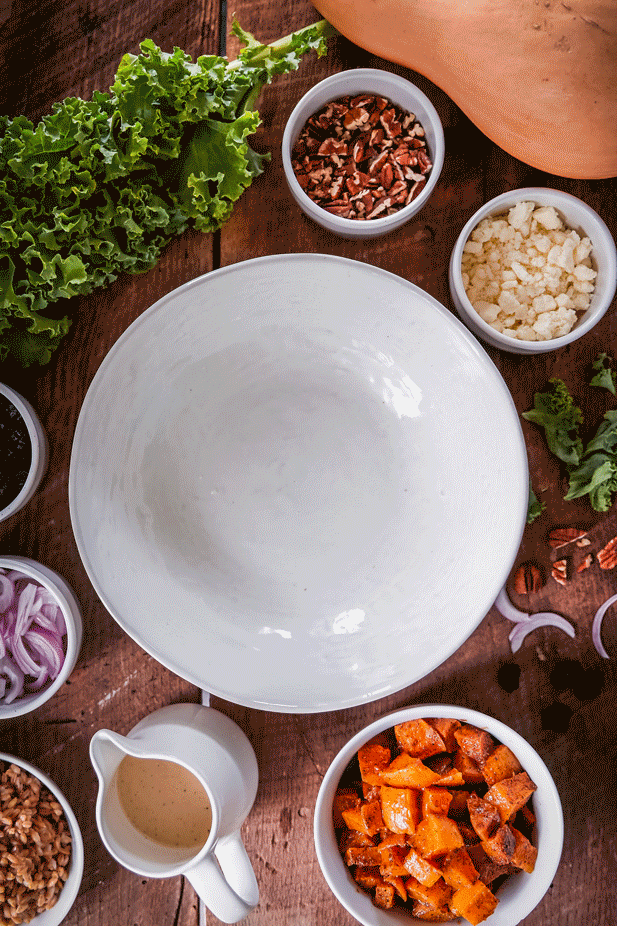 Ingredients:
For the neck pumpkin:
4 cups of peeled and cubed pumpkin
1 tsp paprika
1 tsp black pepper
2 tsp garlic powder
Salt to taste
1/4 cup of olive oil
For the dressing:
Juice of two lemons
3 T of 100% pure maple syrup
2 cloves or garlic pressed or minced
1 T dijon mustard
1/4 cup of tahini
1/4 cup of olive oil
2-3 T of water as needed (tahini absorbs liquid, so to make dressing thinner, add water as needed)
Salt and ground black pepper to taste
For the salad:
8 cups of very thinly sliced kale (you want to ensure it's cut very fine, it makes the kale less 'meaty' and helps get dressing on each and every piece)
1/2 of a medium red onion cut into thin pieces
1/2 cup of crumbled feta
1/2 cup of dried cranberries
1/2 cup of chopped toasted pecans
Optional – 1 cup of your favorite cooked grain (we used farro, but also have used quinoa – use whatever grain you have on hand!)
Instructions:
Preheat oven to 425°.  Peel and chop pumpkin.  In a bowl, toss with spices and oil making sure everything is coated evenly.  Place pumpkin on pan covered in parchment paper.  Roast for about 30 minutes or until pumpkin is golden brown (can also toast pecans here if you don't have any on hand).  While pumpkin is cooking, cook grains if you're using them, and then wash and thinly slice up kale.  Place in kale bowl.  Chop up onion and pecans. Place in bowl.  Top greens with feta, cranberries, optional grains, and roasted pumpkin.  Mix dressing ingredients together, making sure to whisk everything until well combined.  Drizzle on top of salad and toss well.  Serve immediately and enjoy!