Jump to RecipePrint RecipeJump to Video
When I visited Japan, the food that not only stuck with me, but that I still crave is the delicious bowls of ramen. Now these were available everywhere at little local ramen shops.  The feeling of sitting and happily slurping away with all the other customers with my noodle bowl in hand was the best.  And topping every bite with different house made chilis, crisps, and vinegars made my little foodie heart so happy.
Now while there was a plethora of types, toppings, meats, and broths available, my favorite was always the tan tan pork ramen.  My husband would say it was any of the variety of seafood ones he ate but I am not a seafood fan. The tan tan ramen bowls though, we each agree that it was one of the best.
Each ramen shop's recipe was a little different but the addition of a crispy spicy pork and creamy milk broth remained pretty universally standard.  After much trial and error in my own kitchen, trying to recreate those Japanese ramen bowls, this is about as close as I could get to authentic!
One of the big key components in make sure your pork gets crispy and caramelized. That caramelized flavor is one of the things that makes these noodle bowls so good! A really good soup base to mix with your broth is also key!
Some tips and tricks to good ramen:
Visiting your local Asian market will also give you access to lots of great ingredients, fresh produce, and in my opinion some of the best meats (typically they still butcher and cut everything in house).
Use homemade bone broth.
Use a good soy sauce!
Get some fresh ramen noodles if you're able!
Buy fun ramen toppers at your Asian market like fried onions and garlic, spicy chili oil, Chinese chives, bok choy, bamboo shoots, pickled or fermented veggies, Chinese spinach (it's bigger and longer), lots of fun chili crunches.
So for a little taste of my favorite ramen dish, take an hour and make these delicious spicy tan tan ramen bowls.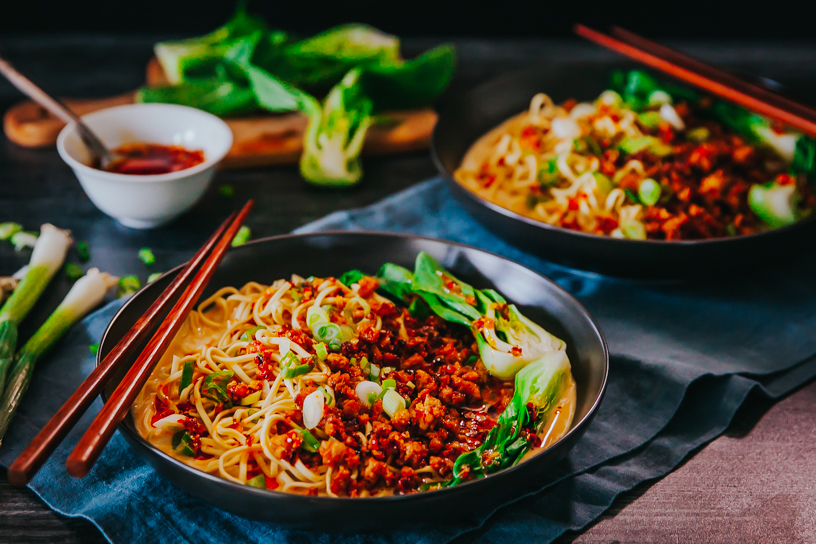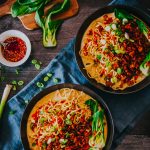 Print Recipe
Spicy Tan Tan Ramen Bowls
This dish always has me reminiscing about my time in Japan, and in the States, I'm always on the hunt for great tan tan ramen (a type of spicy ground pork ramen). This is my adaptation from the many versions I had all over Japan and brings me back to slurping a bowl of it down in many a ramen shops. Unlike most ramen, this uses sesame paste to give the broth it's creamy texture.  The caramelized pork pairs so well with the spicy broth, leafy greens, and the delicate noodles!
Ingredients
For the pork:

1

lb

ground pork

2

tbsp

mirin

1

heaping tbsp spicy bean paste

(la doubanjiang)

1/2

tbsp

fermented hot chili paste

(gochujang)

1

heaping tbsp. fresh grated ginger

10

cloves

crushed garlic

For the broth:

1

tbsp

white sugar

2

tbsp

soy sauce

1

tbsp

rice vinegar

2

tbsp

chili crunch

3

tbsp

sesame paste

tahini (can sub w/ peanut butter)

6

cups

chicken broth

1

12 oz can of evaporated milk

For the bowls:

8-9

oz

ramen or thin Asian style egg noodles ramen

Optional garnishes: bok choy, leafy spinach, scallions, crushed peanuts, chili crunch, chili oil, fried onions, fried garlic
Instructions
Mix all the pork ingredients together until well combined.  Cook on high heat, stirring occasionally, until pork begins to become golden brown and caramelized.  Remove from heat and set aside.  

For the broth, mix all the ingredients together except the chicken broth and evaporated milk to make the broth base.  In a sauce pan simmer the chicken stock on the stove. Once simmering, turn off from heat and stir in your evaporated milk.

Cook your noodles according to your package instructions. To assemble, place two tablespoons of the broth base at the bottom of a wide bowl, add two cups of your broth and mix until smooth.  Place a forth of your cooked noodles in your broth and top with a forth of the caramelized pork.  Top with your garnishes, we used scallions, bok choy, and chili crunch.
Follow Us Below On Social for More Recipes and Content!!
• Tik Tok • Facebook • Pinterest • Instagram • Twitter • More Recipes •