There's something about meatballs simmering in spaghetti sauce all day.  It makes the whole house smell amazing, and really once you do the hard work of making the meatballs, you can put your feet up and forget about it until dinner time.  This meatball recipe has become one of my family favorites!  I actually starting making them for a friend who was gluten free and she missed having a good meatball in red sauce.  I found that if you substituted all your bread crumbs with ground oats and added some cheese, they made great binders! And voila!  Now that's a spicy meatball!
These are spicy, so if you're someone who doesn't like spice, just tone down the red pepper flakes.  These are also a lot healthier then your all meat or pork meatballs.  They use lean beef with ground turkey sausage and I'm being 110% serious when I say you won't miss them at all! These are better the longer they simmer in sauce, so if you have a few hours to stir them every once in a while, great!  If not, throw them in a slow cooker on low and let them simmer for a few hours.
We love this with zucchini noodles sautéed in a little olive oil, garlic, and red chili flakes, but  pasta is always delicious too!  The hubs and I use the leftovers and make meatballs subs the next day loaded with cheese.  Yum!  So let these bad boys become a regular in your food rotations for a healthier version of your normal meatballs!  And hey, if you want to triple batch these and freeze them, they're great to pull our for parties! So without further ado:
Spicy GF Meatballs:
1 lb turkey Italian sausage (spicy or mild depending on preference)
1 lb 90/10 ground beef
2 large eggs
½ cup of grated parmesan cheese
1 cup oats (ground up into flour, if you can find oat flour you can just use that)
½ a large sweet onion (about 1 cup)
6 garlic cloves
½ cup of fresh parsley
1 tablespoon Worchester sauce
1 tablespoon oregano
1 tablespoon basil
1 teaspoon garlic powder
1 teaspoon paprika
1 teaspoon red pepper flakes (use more/less depending on desired spiciness)
1 tablespoon salt
1 teaspoon ground pepper
¼ cup olive oil
2 – 24 oz jars of your favorite spaghetti sauce
Optional:
Shredded Parmesan Cheese for Garnish
Fresh Basil or Parsley for Garnish
Garlic Bread
Zucchini or Pasta Noodles
Instructions:
Preheat oven to 400 degrees. Place ground beef and turkey sausage (de-case if it has casing) in large bowl.  Place oats in food processor and blend until smooth. Add to bowl. Cut up onions into large chunks and place them food processor with garlic cloves and fresh parsley.  Process until very fine.  Add mixture to bowl.  Add the rest of the ingredients (except olive oil and spaghetti sauce) and mix by hand.  Remember to not mix too much, as the more you mix, the tougher the meatballs!  Once mixed evenly, form into 1.5-2 inch meatballs.  Use a cooling rack on top of your baking sheet to ensure the meatballs get crispy on all sides and fat drips in the tray.  Once all your meatballs have been formed, drizzle with olive oil.  Place in oven for 30 minutes or until they get nice and golden brown.  Once done, place in your favorite tomato sauce and simmer on low heat for 2-3 hours.  Serve up with your favorite noodle (we went with zucchini noodles) and garnish with your toppings of choice. Enjoy!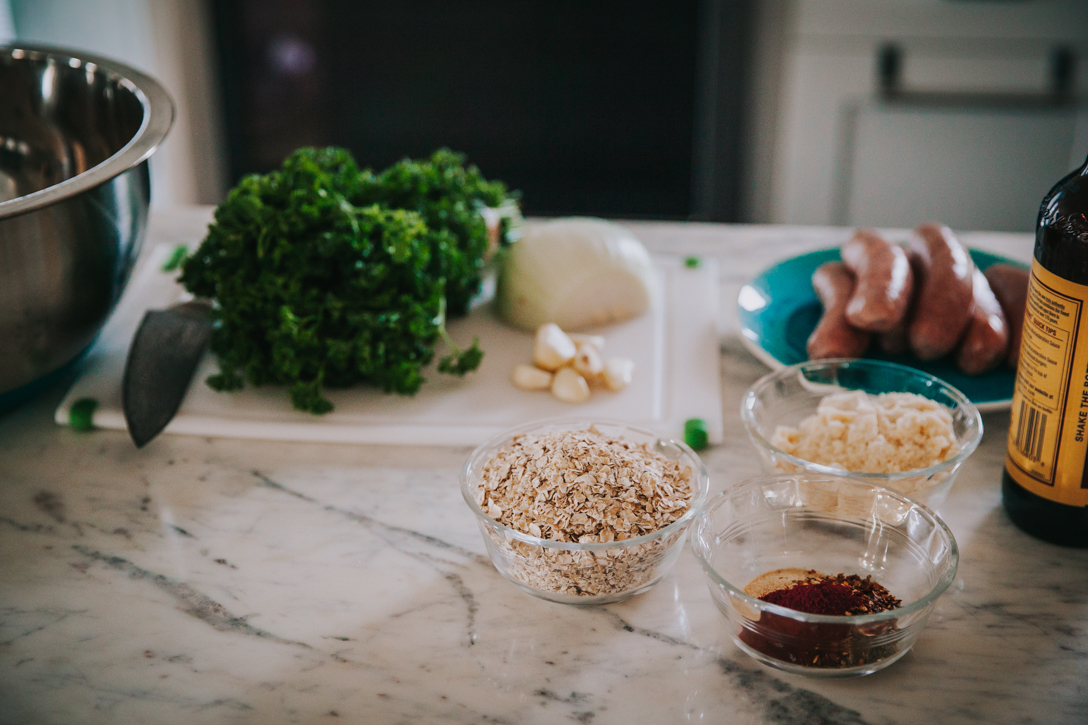 Sorry for all the drizzle shots.  I'm kind of obsessed with them and all the olive oil goodness!