Sometimes the best recipes are the simple ones.  That is exactly the case with this sweet mustard clove ham! This is a simple prep it and forget it.  This isn't like you're usual 'baked ham.'  By cooking this low and slow, it's becomes shredded pork.  Think pulled pork, but with ham!  It's honestly freaking delicious!  We love it at our house, we serve it with potatoes and steamed veggies, and it's always a show stopper.  It's a really unique way to cook ham that most people haven't had before.  This cooks for a looong time.  The larger the ham, the longer it cooks, so remember that if you're getting a HUGE ham.  Plan in advance.  This is for a medium sized ham.  Also, a few notes, this needs to be a bone in ham, it helps give the ham all that yummy flavor. The ham also can't be spiral cut, has to be just a straight up, unsliced ham.  Prepare to sit back and enjoy a delicious meal with the oven doing most of the work!
Ingredients:
8-10 lb. ham, bone in, unsliced
½ cup of brown sugar
4 T Dijon mustard (can also use whole grain or horseradish for a kick!)
Splash of orange juice
30-40 whole cloves
Directions:
Preheat over to 250 degrees. Spray roaster pan with cooking spray.  Carefully take ham out of package and make sure to put all the juice as well as ham in roaster pan.  Place sliced ham side down. Mix together brown sugar, Dijon mustard, and orange juice.  Should create a 'paste' type consistency.  Spread mixture over entire ham.  Take whole cloves and press them in evenly over entire ham.
Now this is the important part, cover entire pan with foil and make sure it's an airtight seal.  This is cooking and steaming itself for a long time and you don't want air escaping.  Cook low and slow for 8-10 hours, about an hour for each pound of ham.  Don't disrupt cooking by opening oven.
After 8-10 hours, take ham out of oven, allow to rest for 20-30 minutes (great veggie/mashed potato prep time), and then begin to shred ham evenly.  Let meat soak up those yummy pan juices.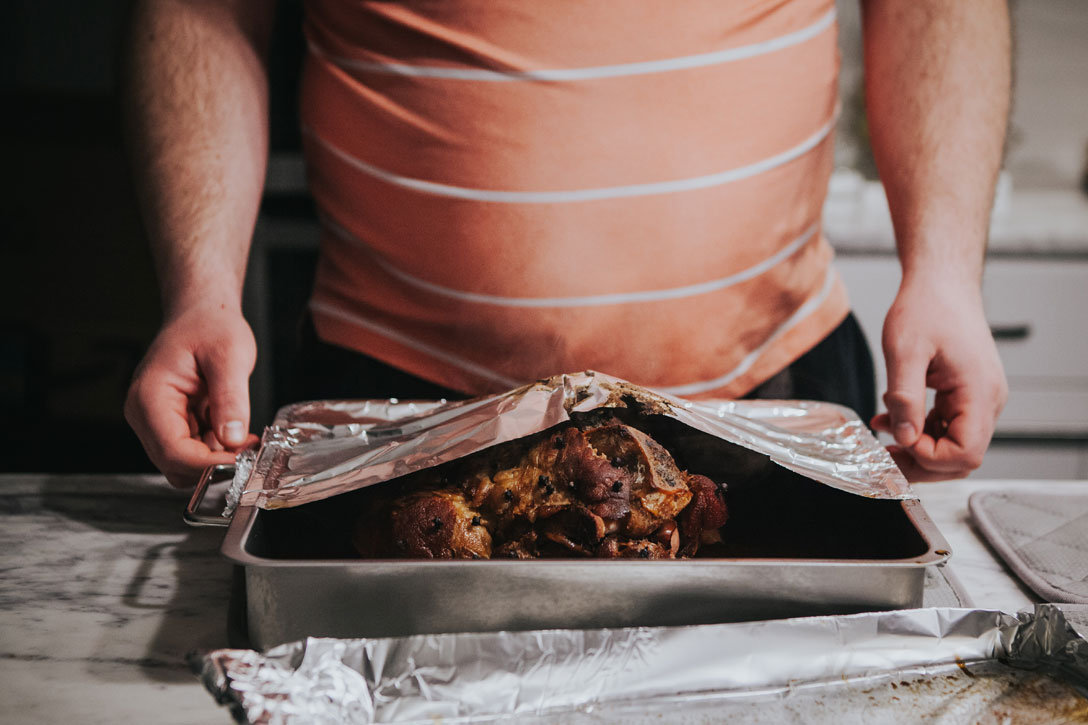 Serve immediately and enjoy!