**Please note: You will need a strong blender or in a pinch a food processor for this recipe. Also, this does require freezing watermelon overnight.**
There is something about walking into a market in the summer and seeing those HUGE tubs of watermelons that just makes you want to grab one, go home, and slice it up to enjoy all day long. My problem is, it's usually just the hubs and myself, and we are never able to eat a whole watermelon before it goes bad.  My solution was to cut up the watermelon into cubes and freeze it.  We use them as 'ice cubes' in iced tea (or white wine, let's get serious), they're great to just throw in a bowl and eat as a cool treat and it's one of our dog, Gizmo's favorite treats to chew on.
However, my husband and I have found a solution to our overabundance of watermelon.  Simply chop into cubes, freeze, and throw them in the blender and make watermelon snow.  It's a far healthier version of frozen treats like ice cream and it's seriously delicious on those hot summer days.  Adding the honey and lime sauce drizzled over the top just adds that hint of tartness that makes this a hit.  With only three ingredients, this is simple, kid-friendly, gf, and vegan!  The biggest time consumer is cutting and freezing the watermelon, but once you do that you're golden.  We buy the ginumbo watermelons and keep frozen bags of watermelon in the freezer all summer.  So put your feet up and absorb the summer sun while enjoying this frozen treat!
**Also, if it's just adults, try blending frozen watermelon cubes with a little moscato or rum before adding the lime and honey.  Trust me.
Ingredients:
1 large seedless watermelon
1/2 cup of lime juice, about 5-6 limes
1/4 cup of honey
*Optional*
Mint garnish
Rum or white wine to blend for 'adult type beverage'
Instructions:
The easiest way I've found to 'peel' a watermelon, is to cut it in half, lay the flat side down on surface and then cut of green and white parts on the edges carefully with a knife.  Make sure you remove all green and white parts of watermelon.  I even made a little video to show you.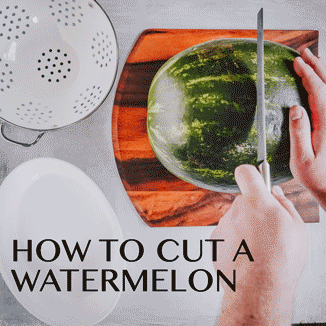 Once you just have the pink flesh left, cut everything into cubes (pick out any seeds that are still in watermelon) and separate into large gallon bags.  Place in freezer overnight, or until frozen solid. Before removing watermelon from freezer, mix together lime juice and honey.  Shake or stir until combined.  Immediately place frozen watermelon cubes in blender (if you don't have a blender that makes 'snow,' you may have to add some water).  Blend until snow consistency. For anyone interested, we have a Ninja blender that makes snow. This melts fast, place snow in serving dishes, drizzle with honey lime mixture, garnish with mint, and voila!  Perfect summer treat that's heathy and fresh! If you're making the adult version and add wine to the blender, this is best sipped with a straw.  Enjoy!