Yes, yes, yes, I know.  A LOT going on in this post.  But HEY when you're going to do a copycat recipe, I think you should do it right, and regardless of how many recipes I tried to find, no post included every recipe to make this taste just like Halal Guys, Gyro King, etc.  And that was what I wanted!  This is literally one of my favorite dishes in the whole world (literally with all my travels!).  If I'm ever in NYC, you better believe I'm lined up waiting for my aluminum take out bowl loaded with all the fixings!  There is a Gyro King about an hour away from my house, and I have 100% made the drive just for my chicken and turmeric rice bowl and sauces. If there was one down the road from me, I'm sure I'd be there every day!  But hey, no one has time to be driving for hours to get their favorite dish, so after MANY trial and errors I think I've created as close as I'll come to my favorite dish.  Only change is probably that I add more garlic to everything, but hey, my blog and I do what I want lol! And honestly, all these recipes can stand on their own.  You just want chicken, this is a great grilling or oven recipe.  Rice side?  This nails it.  Sauces for really any dinner? Yep!
I've broken this down into four different recipes within this post and photos for each recipe prep to make everything easier!  This makes a lot because frankly, it's all a lot of work and if I'm making it, I want to eat it for a few days. The meat and rice also freeze real well too, so its easy to pull out on a weeknight!  The sauces are good for up to two weeks.  I honestly haven't tried freezing them, so I can't attest to that, but I can't imagine it wouldn't freeze well.  We keep the sauces in mason jars in the fridge and use them on everything from salads to burgers to fries. So without further ado, prepare yourselves for the awesomeness that is street cart chicken bowls!
**Note, there are some spices here that if you don't cook a lot you might have never seen or used!  Sumac is a spice I use a lot as do many Middle Eastern and Mediterranean restaurants! It helps enhance citrus flavors, but also has a subtle fruity tart flavor.  Ground coriander is actually the seeds of cilantro.  Though I don't think it tastes anything like cilantro.  It has a very powerful taste and flavor of citrus and curry.  It's delightful with any chicken or rice dish!
**Remember to get bowl toppings!  We like chopped lettuce, tomatoes, cucumber, red onion, and feta!**
Halal Guys Copycat Chicken
Copycat recipe for the Halal Guys chicken in their chicken and rice bowls on the streets of NYC.
Ingredients
3.5-4

lbs

boneless skinless chicken thighs

juice of two lemons

1.5

tsp

dried oregano

1

tsp

sumac

1

tsp

ground coriander

2

tsp

onion powder

2

tsp

garlic powder

1.5

tsp

ground cumin

6

garlic cloves

pressed or minced

1

tsp

ground black pepper

pinch

of cayenne pepper

optional

½

cup

greek yogurt

½

cup

olive oil

salt to taste

I used about a tablespoon

1 1/2

large onions, peeled and sliced in half long ways

this will be 3 large pieces total

3

medium sized wooden skewers
Instructions
Ideally made the night before! 24-48 hour marinade gives the best flavor!

Unpackage boneless, skinless chicken thighs and pull of or cut off any large pieces of fat. In a large bowl, combine all of the ingredients except for the large onions and wooden skewers. Mix everything together until well combined and all of the chicken pieces have marinade rubbed on them. Cover and set in fridge to marinade.



Once marinading time has finished, remove from fridge and preheat oven to 400°. Peel onions and cut in half horizontally. Place 3 onion pieces flat side down on a baking sheet (make sure it has edges as there will be lots of 'juice'). Place skewers into a triangle shape, one in each onion piece. Take chicken thighs and layer one by one on onion skewers, alternating between skewers.

****I've also found this works if you just have large metal skewers and do a whole row of single chicken on them and place them over the onions!***

Remove onions off the bottom of the skewers (you can keep them on if you want but the 'chicken tower' will most likely fall over) and place chicken tower laying on top of onions. Place in oven and bake 45 minutes on one side and then carefully grab skewers and flip to cook the other side for 45 minutes. This will ensure both sides get 'crispy edges.' This also cooks all those onions in chicken fat and seasonings and creates magic! Once done (and temp has reached 165°), remove from oven and let rest for 10 minutes. While it's cooling, carefully finely chop up all those caramelized baked onions. Then carefully remove chicken from skewers. Mix chicken and chopped up onions together. Voila! You've got the chicken part DONE!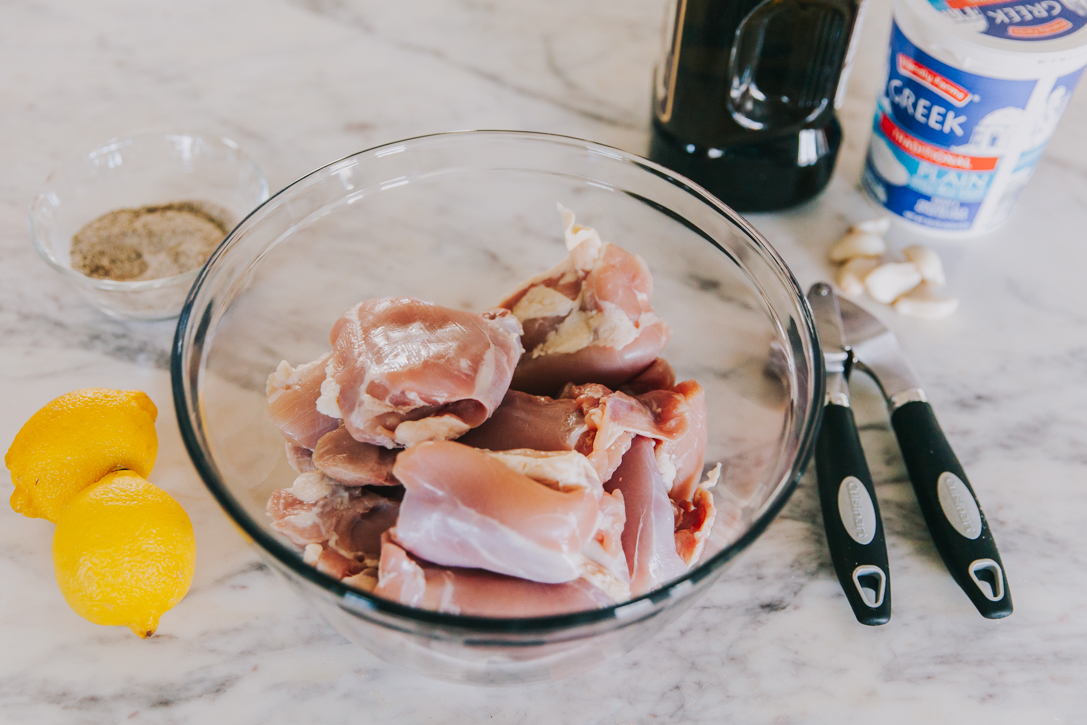 Halal Guys Copycat White Sauce
The best sauce for those street cart chicken bowls, the white sauce! Refrigerate until use. The longer it sits, the better it gets for the first few hours!
Ingredients
1 ½

cups

mayo

½

cup

greek yogurt

Juice of 2 lemons

1

tsp

dried parsley

1

tsp

sumac

1

tsp

black pepper

1

tsp

onion powder

1

tbsp

garlic powder

4

garlic cloves

minced or pressed

4

tbsp

white vinegar

pinch

of cayenne pepper

1

tbsp

white sugar

salt to taste
Instructions
Simply put everything in a large mason jar or bowl and mix until well combined!
Halal Guys Copycat Red Chili Sauce
The best sauce for those NYC street cart chicken bowls, that red spicy sauce!
Ingredients
30

dried red chilis (I used Chile de Abrol)

I've included a photo below of the dried chilis I used

8

cloves

of garlic

1/3

cup

of water chilis were soaking in

½

cup

of olive oil

1

tsp

ground coriander

1.5

tsp

ground cumin

1.5

tsp

garlic powder

1.5

tsp

paprika

1

tsp

black pepper

1

cup

cherry tomatoes or a large plum tomato

¼

cup

white vinegar

2

tbsp

white sugar

salt to taste
Instructions
Put dried chilis in a heat resistant bowl. I prefer to 'crack' them open at this point and shake out all the seeds (you can do this after they've rehydrated, but I just think it's harder that way). Then shake them all around in the bowl and throw out all the seeds that are now at the bottom of the bowl. Pour 5 cups of boiling water over deseeded chilis. Stir to make sure everything is well combined and all chilis are covered. Let set for an hour or until chilis are soft. Make sure not to throw out chili water yet! Place chilis and all other ingredients in a blender and blend until smooth. If you want it to be more 'liquidy' add more chili water than advised above. Refrigerate until use. The longer it sits, the better it gets for the first few hours!
Halal Guys Copycat Turmeric Style Rice
A copycat version of that perfect turmeric style rice you get in every street cart's rice bowls! The best!
Ingredients
1.5

cups

brown basmati rice

can sub white basmati just adjust times

3-4

cups

chicken broth

base this on ratios on the rice bag, I find brown rice always needs more liquid

½

stick of butter

1

cup

finely chopped onion

4

cloves

garlic

minced or pressed

1

tsp

turmeric

1

tsp

cumin

1

tsp

garlic powder

1

tsp

paprika

Pinch

of cayenne pepper

optional

salt to taste (I used about 1/2 tbsp)
Instructions
On medium high heat, melt butter in pan, then add chopped onions and minced or pressed garlic. Stir and cook until they become translucent. Add spices and rice and stir for about 3-4 minutes until spices become fragrant and rice has begun to brown. Carefully add broth (watch for steam!) and stir everything to combine. Bring to a boil and then cover and reduce heat to simmer. Cook for about 45 minutes (if using brown rice like above), or cook to the appropriate time per your rice's bag instructions. Allow to sit for five minutes and then 'fluff' with a fork.
And now for the all of this yumminess to come together in a bowl fit for a king.  You'll need to place the rice and chicken in bowl, top with your favorite bowl toppings, we like chopped lettuce, tomatoes, red onions, cucumbers and feta!  Then drizzle with white and red sauce! Sit back, eat, and you'll think you've been transported to your favorite chicken bowl food truck!