Alright, so let me start off by saying, I'm not an expert in the Keto Diet.  I just know what I've read, and this recipe does have both onions and garlic in it (you can reduce the amounts I've used if you're carb counting or keeping sugar really low).  For those who aren't on the keto diet, you can make this recipe in a pie crust, or my favorite way growing up, which was using a tube of croissant rolls, evenly placed around a pie pan with some dijon mustard spread on the bottom.  Super duper yum!
But for the rest of you Keto eaters (or healthy eaters in general), this is one of my FAVORITE RECIPES.  I have probably eaten 300 of these quiches in my lifetime.  This was my mom's go to recipe to get rid of zucchini in the summer.  We had this almost every week in zucchini season.  Not only is this packed with flavor, but it helps get rid of a lot of zucchinis.  We ate this as kids with a crust, but I've done my own twist on this to make it Keto and vegetarian friendly! By sautéing all that yummy zucchini with onions, garlic, and a whole boatload of herbs, you're sure to make your house smell ammmaazzzinngg.  And honestly, if you didn't want to make this a quiche, the sautéed zucchini with herbs and onions is a great side dish.  I always made extra zucchini so I could eat a bowl of it while I was waiting for the quiche to bake!
Once you've brought out all that flavor, you are mixing in all that cheesy goodness and even making a 'crust' of sorts with some parm.  The hardest part of this recipe is waiting for it to be done cooking in the oven!  So grab all those zucchini's you've been wanting to get rid of and whisk up this yummy herbed zucchini quiche!
**Please Note:  This is a great meal prep recipe for breakfast.  If you don't want to do a whole quiche, you can easily do this in muffin tins for a quick breakfast on the go.  This also freezes really well!  So if you're like me and make huge batches of everything, this is a timesaver for food prepping!
Ingredients:
8 cups of zucchini, halved and sliced thinly
1 Vidalia onion, quartered and sliced thin
3 cloves of garlic, pressed (or minced if you don't have a press)
1 T dried oregano
1 T dried basil
2 T dried parsley
1 T garlic powder
1 T onion powder
1/2 T ground black pepper
Salt to taste
3 T butter
1/2 cup of cream cheese
3 cups of shredded mozzarella cheese
3 eggs
1/2 cup of grated parmesan cheese (optional)
Cooking spray
Instructions:
Preheat oven to 400°. Cut up onion and garlic. In a large pot, melt butter on medium high heat. Once melted, add onions and garlic.  Add in all spices.  Mix in pot until evenly combined, let cook until translucent.  While cooking, thinly slice all zucchini.  Add to pot.  Stir until evenly combined.  This will cook down a lot, your goal is to get rid of as much liquid as possible.  Cook for about 15-20 minutes, stirring occasionally until zucchini has reduced to about a third of the original size.  Drain off any excess water. While zucchini mixture is cooking evenly mix together cream cheese, eggs, and mozzarella cheese (if your cream cheese is cold it might not combine easily, just place in microwave for 30 seconds and stir, it should mix easier!).  Spray a glass pie pan heavily with cooking spray (can also use butter).  Then, place in grated parmesan (it should stick to sides) and carefully shake around pie pan until it's evenly coated with parmesan.  This parmesan crust is totally optional and this will work without it too! The zucchini mixture should be reduced now, so slowly mix in egg cheese mixture until everything is evenly combined.  Slowly pour mixture into pie pan (careful to keep parmesan crust in place).  Place in oven and cook for about 30-40 minutes or until quiche is golden brown and eggs have set.  Remove from oven and let cool for at least an hour before you cut into it (I know, it's hard).  Cut into slices and serve!  This is good hot or cold.  Enjoy!
*For those not on keto, this works great with two tubes of croissant dough either pressed into a pie pan or spread out on a baking sheet and make 'edges' with dough.  Spread mixture evenly on dough and cook for 30-40 minutes until everything is golden brown and eggs have set.  Let cool and enjoy!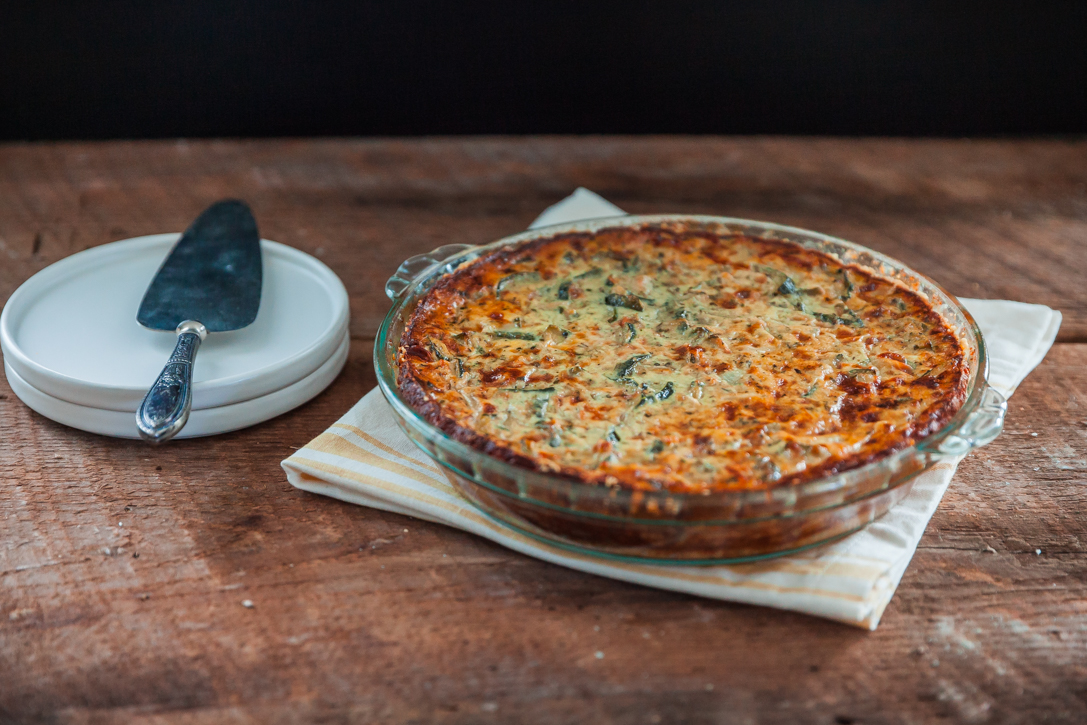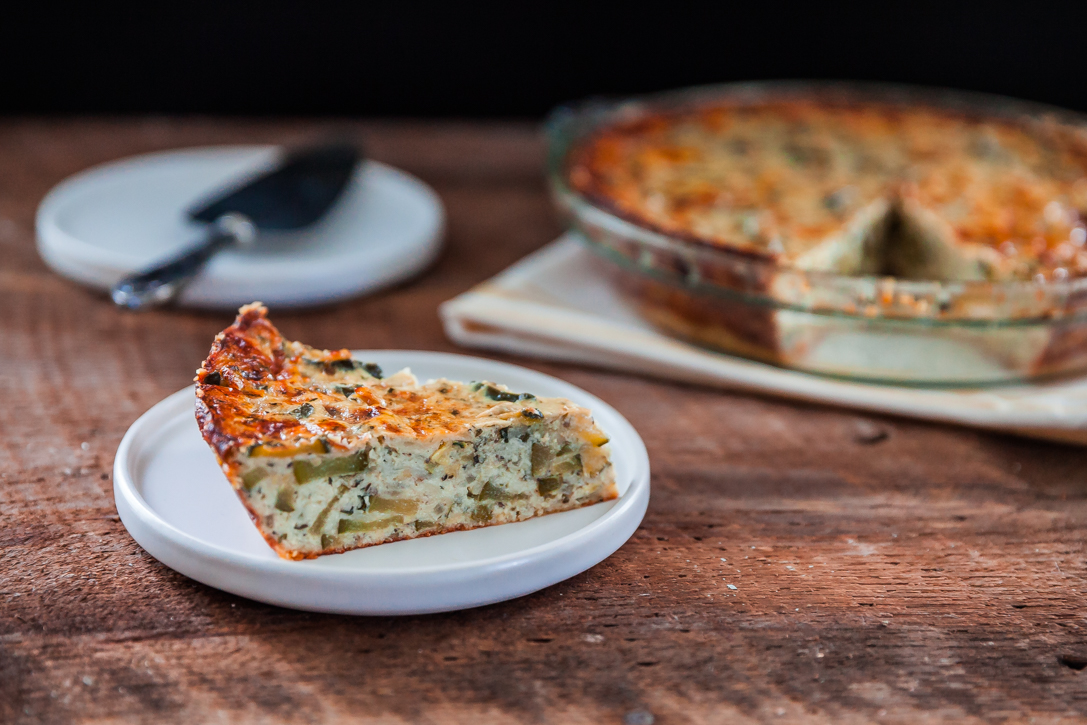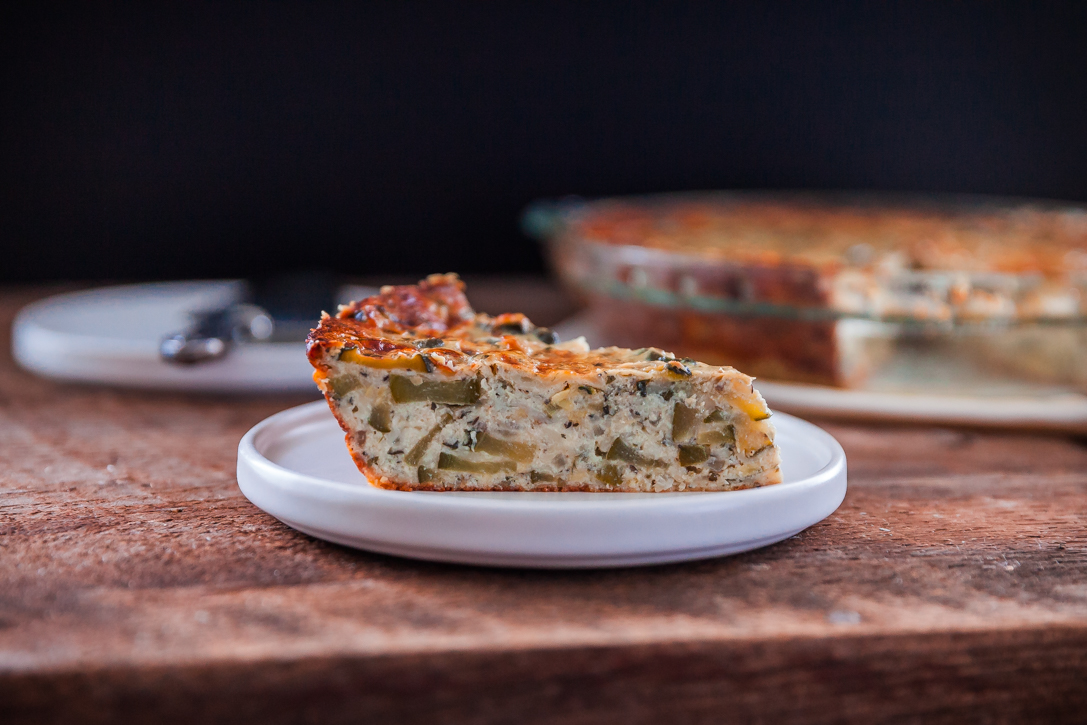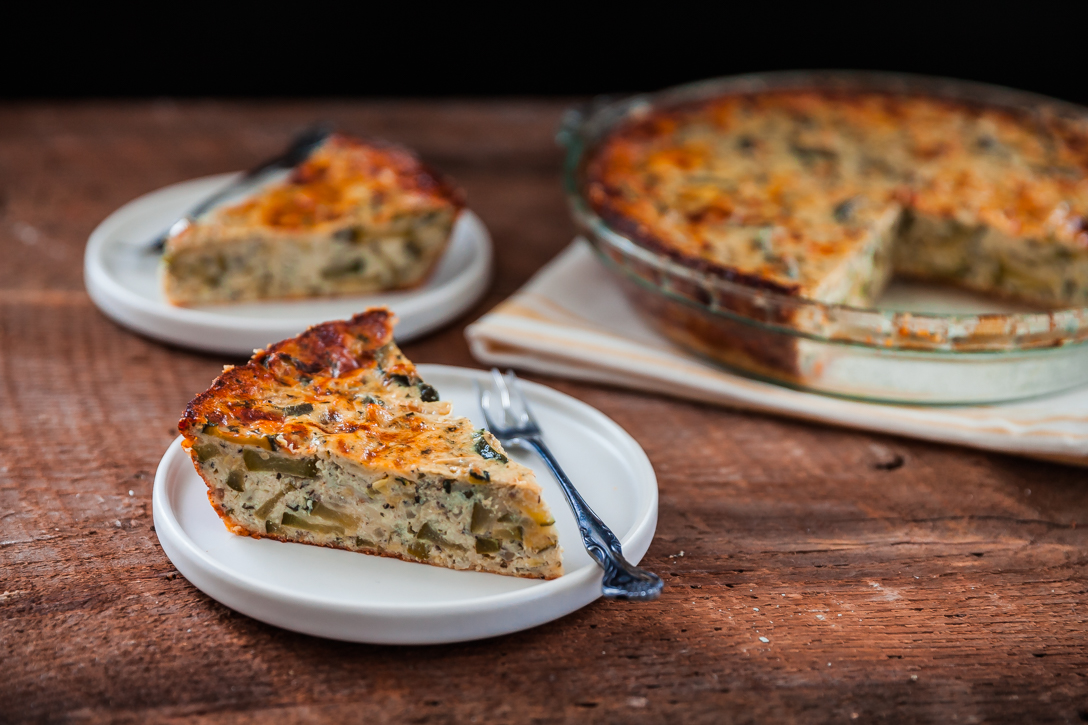 And here's what the non-keto variety looks like, also delicious!