It's that time again!  Another farm featured in our Local Project!  This time it's Locust Point Cattle Company,featuring their 100% grass-fed sirloin steak, pan seared in cast iron with a homemade chimichurri sauce.   Locust Point Cattle Company recently popped into the York local scene when they opened their farm in 2014.  Many people know them from their stand at the York's Central Market where you can buy all different cuts of never frozen fresh beef as well as frozen varieties.  Their biggest sellers are ground beef, tri-tips, Denver, and Delmonico steaks. And if you ever taste their beef, you'll be able to tell why people rave about it!  Not only is it 100% grass-fed angus beef, but they really take great care with their animals and farming practices.  They're also Animal Welfare Approved and even Certified Grass-fed.  They are one of only two farms in the whole state to earn that recognition!  Unlike most farms, they keep their cattle longer, for about 18-24 months, and their selection of angus ensures they're getting extra beefed up on all that yummy grass.  Their herd of around 120 heads grazes every day on rotating pastures on their 180 acres of farmland.  They even have two donkeys, Otis and Walley, to keep them company. And their meat processing sets them WAY above the competition.  Not only do they harvest from 6 animals a month (unlike most beef companies that do it once or twice a year and keep it all frozen) but they dry age the meat for 21 days.  Ensuring their meat is loaded with flavor, even down to the ground beef!  This also provides their customers the option to buy beef frozen, or beef that's fresh and never been frozen.
Chris and Leigh, the husband and wife team, run the farm year round with help from their cousin and kids. In winter, you can find them bringing out dried grass for the cattle, and in the warmer months, they're out rotating the cattle between pastures.  Chris has had a passion for cattle raising ever since he was a boy, working and helping out on his uncle's farm.  It was that passion that brought them back to PA to start their own cattle operation.  Focusing on their farm to table ideals and providing a safe, open, humane home for their animals sets them apart from others!  Another unique thing about their operation is that they run a membership beef program (kind of like a CSA for meat).  You sign up on their website here.  You can order whatever cuts you want, ask for custom cuts, and even get a discount on their meats based on membership type.  It's a great way to get local beef and support the local movement!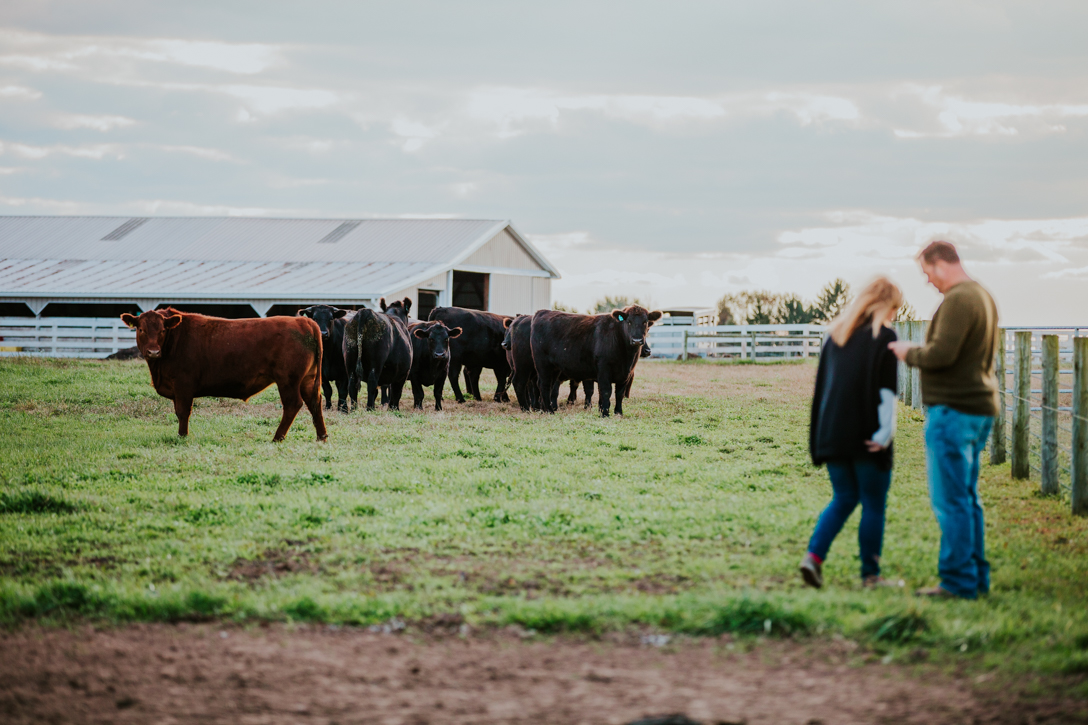 But today, we're featuring their whole sirloin steak, cooked in a cast iron skillet, and drizzled with one of my favorite sauces, chimichurri.  To me, chimichurri is one of the most underrated condiments.  It's seriously good with SO many foods, but it pairs so magically with steak.  The garlic and fresh herbs combine so well with steak, and bring out so many wonderful flavors throughout.  Best thing about this recipe is that you can use as much or as little chimichurri as you'd like.  If you have leftovers, take a baguette, slice it in half, smear it with lots of chimichurri, and load it up thinly slice up that steak and food magic is happening today!  So let's break out those cast iron skillets and get cooking on this yummy steak recipe!
Ingredients:
For the Steak:
1 whole sirloin steak from Locust Point Cattle Company (about 2-3 lbs)
2 tablespoons of neutral high heat oil like canola or avocado for pan
2 tablespoons of butter to finish steak
Garlic salt (Lawry's) and fresh ground pepper to taste for each side of steak
For the Chimichurri:
1 full pressed cup of washed fresh parsley
4-5 garlic cloves
1 tsp red chili flakes (can use more/less depending on heat preference)
1 tsp fresh oregano (can substitute 1 tsp dried oregano) about 2 sprigs with leaves removed
2 T red wine vinegar
Juice of 1 lemon
1 small shallot, peeled and top/bottom cut off
1 tsp of ground black pepper
1 tsp salt (adjust for more or less to taste)
1/2 cup of olive oil
To cook steak – Use a seasoned cast iron.  Make sure to have an oven mitt, a pair of tongs, a spoon, and butter nearby.
Instructions:
If frozen, thaw steak. Take steak out of fridge and garlic salt and pepper each side and allow to rest for 30-45 minutes.  On stove, add 2 tablespoons of oil to large well season cast iron skillet and heat on medium high heat (do note, when you put the steak in this skillet it will smoke, use proper ventilation).  When it's hot enough oil in pan should 'simmer.'  Place steak in pan and cook on each side for 2-3 minutes (depending on 'done' preference) using tongs to flip steak and cook steak sides for 30 seconds if preferred.  I would recommend using a timer to do this. In the last minute of cooking, drop butter in pan and use spoon to baste steak with butter ensuring it gets coated evenly.  Remove from pan and allow to rest for 8-10 minutes.
While steak is resting, in your food processor combine all chimichurri ingredients and blend until well combined and you get your desired consistency.  I like mine with a little more 'chunk' but others prefer theirs to be almost like a sauce, the choice is yours.  Now it's time to slice your steak and serve with chimichurri drizzled over it.  Enjoy all that awesomeness!