It's that time again!  Our next installment of our local project, featuring wonderful local vendors and the products they offer!  This time we're featuring Perrydell Farm & Dairy; not only have they been an icon in the York area for 50+ years but they are also huge local supporters too!  Walking into their store, it's filled with everything from baked goods, to coffee from local vendors, and they also source much of their produce for their ice cream from local orchards!  And that's exactly what they've done in the peach ice cream we're featuring today!  Most of their peaches (and other produce) come from J-Mar Farms or Mardale Farms, all within close proximity of Perrydell!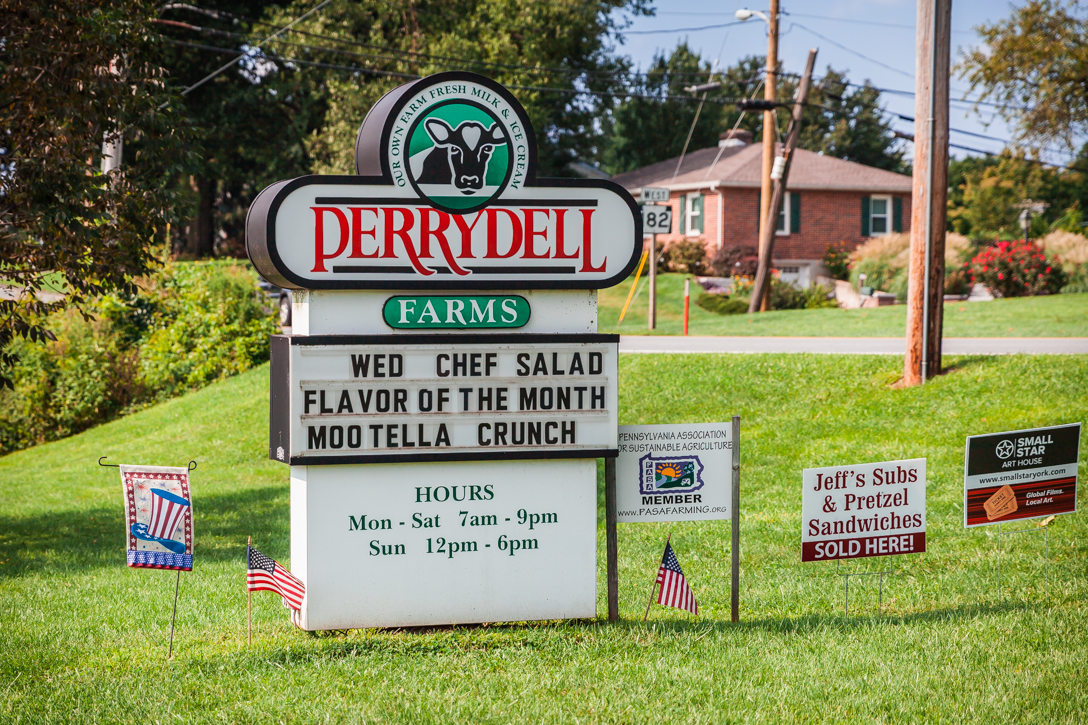 Here's how they make the peach ice cream, first they chop and sugar all the peaches that come in from the orchard. After soaking, they drain all the peach juice off to mix into the ice cream mix (that they make in house). After some pureed peaches are added to the mix, it's churned until it's frozen and then the chopped peaches are added as the frozen ice cream comes out.
Not only are they big proponents of local, but they're super family oriented as well!  Donna, who was my "Perrydell Guru" for my visit, is the brain behind a lot of the ice cream flavors featured at Perrydell.  She can usually be found in the back mixing up ice cream or handing out treats in the Perrydell food truck at events or even weddings!  She's married to one of the 3 brothers, Tom, Greg, and Chip, who are the third generation owners of Perrydell.  Their dad, at 96, still comes in to open the store almost every day too!  Talk about a full family operation! The farm was bought by their great-grandfather in 1923 and they started bottling milk in 1963.  And since 2008, they've been making ice cream, which many of you know them for today!  They even have yogurt in the works for future sales!  This dairy pushes out over 2,000+ gallons of milk a week and while much of it goes towards the ice cream, milk, and the cream you buy in their store, they also supply many local CSAs, co-ops, daycares, and small grocers with their milk.   They actually make milk deliveries every day!  Tell me how many dairies you know that still do that?! On average they're milking about 130-140 Holstein Cows, but have about 100 more cows on the farm that are roaming about or new calves.  Guests can even come and take free self guided tours of the dairy anytime during business hours (guided tours for groups of 10 or more must be scheduled and include a small fee).  They even bottle feed calves around 4pm!  I'm not even a kid and that was fun to see!  Plus, many of their cows come up to the fence in the barn for pets and they might even give you a really wet cow lick if you're lucky! The sweet girl who approached us for her close up, while I was there getting pictures, even thought my camera bag might be a delicious treat haha!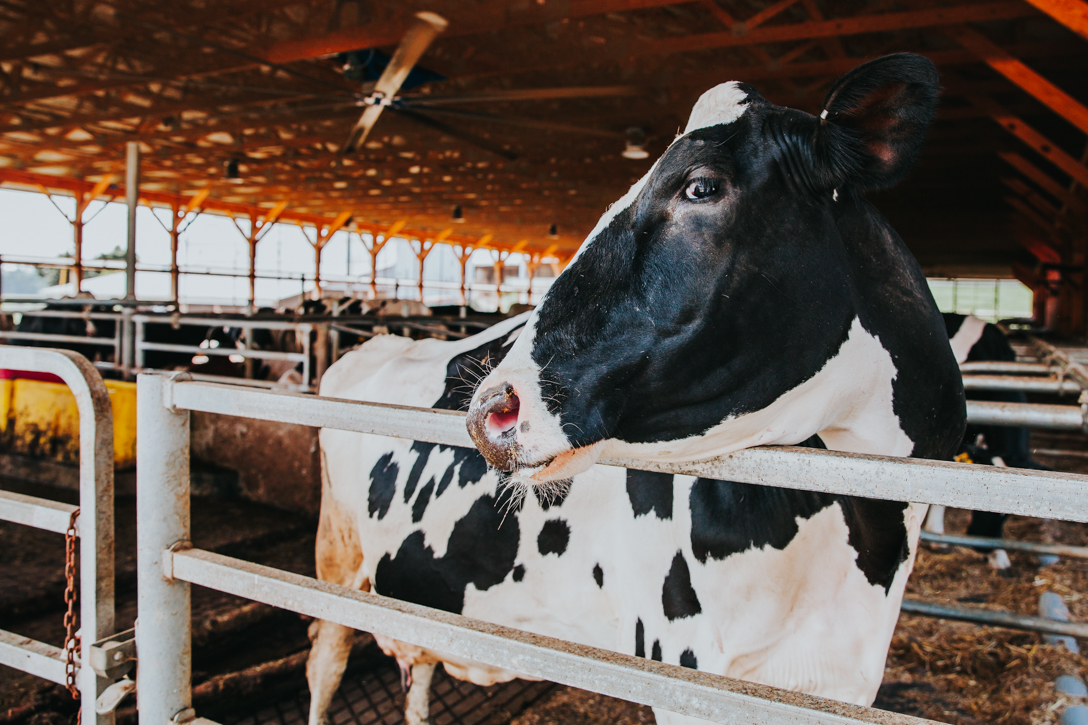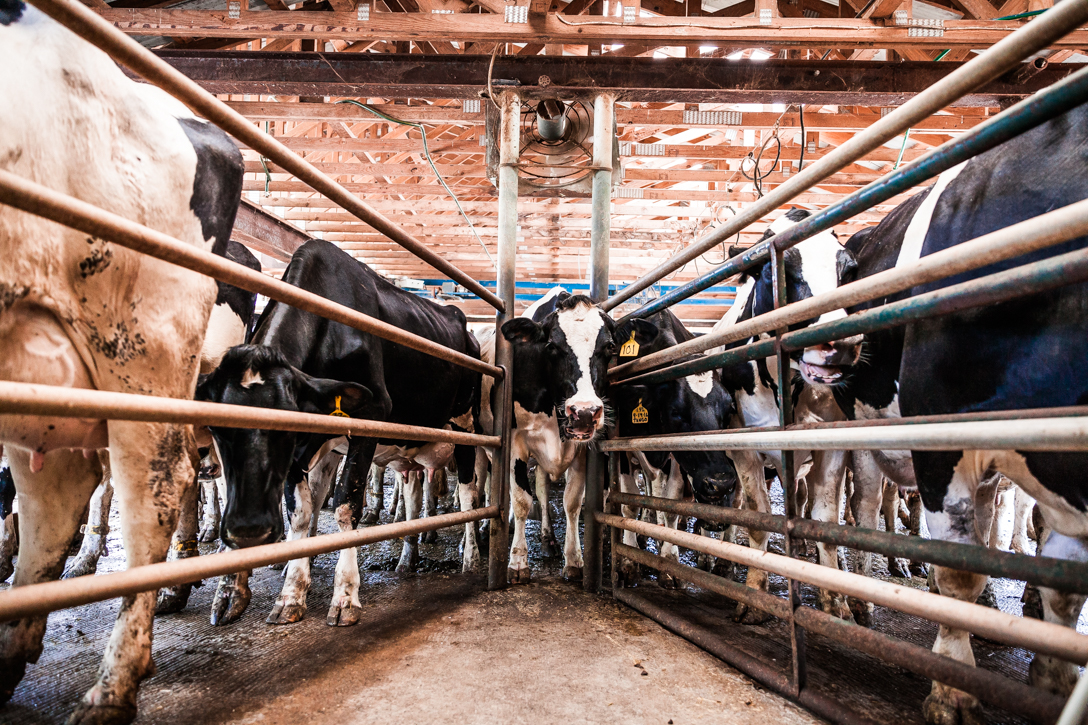 The staff at Perrydell is wonderful and will help you with whatever you need, whether it's hand-scooping you out some ice cream, making you a milkshake, or leading you on a tour of the farm.  Their ice cream flavors change seasonally too, they feature a new ice cream flavor every month (right now it's Moo-tella Crunch, yum!), and this ensures almost every time you go back, you might find something new!  In the fall and winter they even make fresh butter (helllllo great Thanksgiving staple). It's a fun place for kiddos to learn about a dairy farms workings and you can even get a selfie in their cow cut out! So swing on by Perrydell Farm and Dairy, I promise you won't be disappointed!
Here's the milk, fresh from the cows, coming in to get packaged.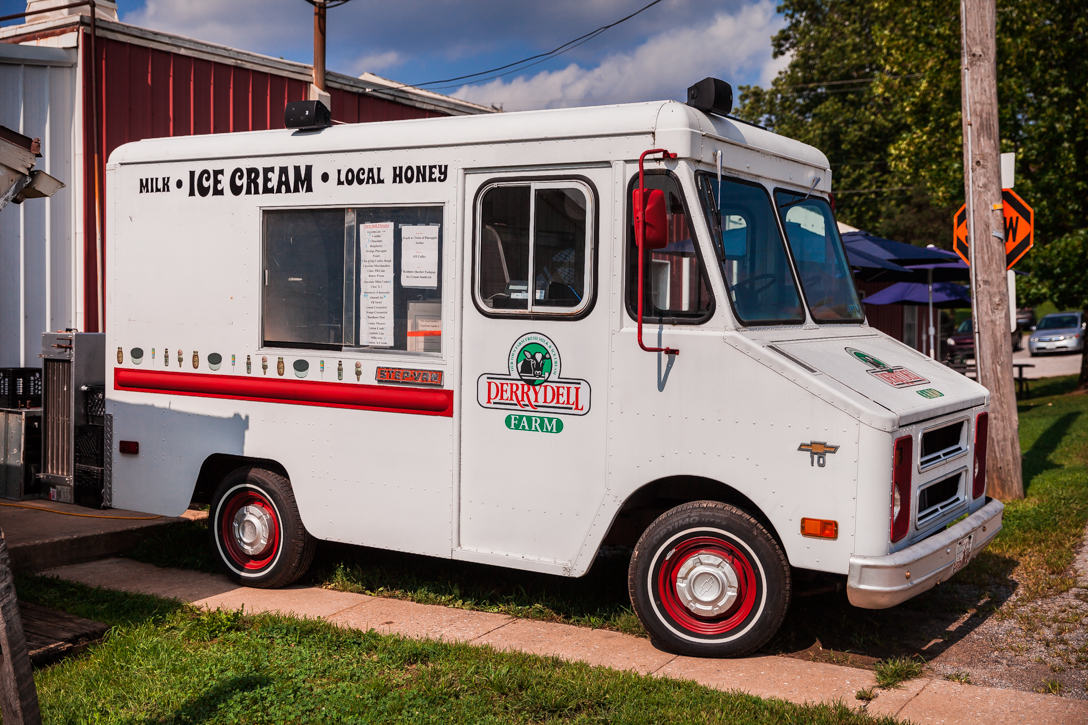 But onto the recipe!! For this blog post, we're featured Perrydell's fresh peach ice cream in a yummy snickerdoodle ice cream sandwich!  Not only are the peaches from right up the road, but they make everything in house, from the ice cream mix, to the chopped up peach mixture.  Once churned out, they sell it in half gallons, pints, and you can get it fresh scooped as well!  It's seasonal, so it won't be there forever! Mixing the sweet cinnamon and vanilla cookie with Perrydell's peach ice cream makes for a freaking delicious summer treat!  Almost like a peach pie, but made for the summer heat!  So go grab a half gallon of Perrydell's peach ice cream and whip up these snickerdoodles, and you're going to be everyone's new favorite person in your family or at your work (or your stomachs lol)!
**Do note, this requires some refrigeration time of the cookie dough.
Ingredients:
1 – 1/2 Gallon of Perrydell's Peach Ice Cream
1 cup of butter at room temperature
1 1/2 cups of granulate suger + 1/3 cup more for rolling cookies
2 large eggs
1 T vanilla extract
2 3/4 – 3 cups of flour (start at 2 3/4th if still sticky add the extra 1/4 cup)
1 tsp cream of tartar
1 tsp baking soda
1/2 tsp salt
1 T ground cinnamon
**This will make about 15 ice cream sandwiches (if you want to make mini or jumbo ice cream sandwiches, just adjust how big you make your cookie dough balls and bake time).
Instructions:
Go get your Perrydell's Peach Ice Cream.  In a large bowl, beat together 1 1/2 cups of sugar and butter.  Mix until well combined.  Add eggs and vanilla and beat until well combined and creamy. Slowly incorporate flour, cream of tartar, baking soda, and salt.  Don't over mix this, mix until just combined.  Cover dough and refrigerate for at least an hour (can do overnight as well).  Once chilled, preheat oven to 375° and line baking sheets with parchment paper.  Mix together 1/3 cup of sugar and cinnamon in a bowl.  Roll cookie dough into about 1 1/2 – 2 inch balls (the bigger they are the bigger your cookie sandwiches will be) and roll in cinnamon sugar mix.  Place balls on cookie sheet and flatten them with the back of a large spoon (or your hand).  Bake for about 8-10 minutes.  Cookies should still look 'wet' between the cracks that begin to appear as you bake.  You don't want these to get too brown or they won't be chewy, which is ideal for cookie sandwiches!  Remove from oven and allow to cool.  Once cool, scoop ice cream onto one cookie and top with the other, slightly press down (careful not to break cookie), to ensure everything sticks together.  Enjoy immediately or place in your freezer wrapped to enjoy later!