It's that time again!  Another installment of our local project, this time featuring Miller Plant Farm located right in my backyard in York, PA. This 5th generation run farm has been around since 1912 and has been a staple in the area for quite some time.  They still have three generations working on the farm too!  They started by growing for their family and transplants for local farmers in green houses, some of which are still used today! So today, we're featuring their Butterkin Squash in a yummy Coconut Curry Butterkin Squash Soup!  Not only is it perfect for this fall weather that will soon be upon us, but it's super duper healthy, colorful, and warms your fall loving soul! And Butterkin may be a variety of squash you've never heard of! While most people know it's common family member, the Butternut Squash, the Butterkin Squash has a similar deep orange interior but is said to be slightly sweeter, have a creamier texture, and be less stringy then the Butternut Squash (which makes it perfect for our soup recipe!).  It's shape is also different, with an elongated oval shape, unlike the Butternut, it has no 'neck.'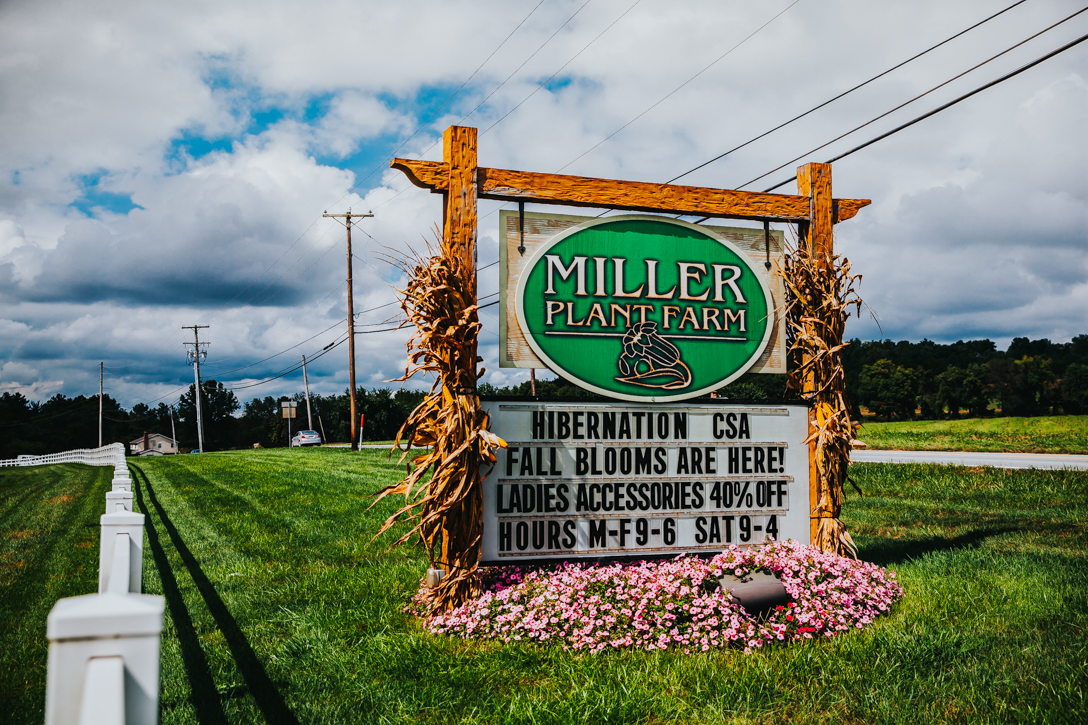 Squash growing with a heck of a view!
Butternut growing, which can also be used in this recipe!
Yummy Butterkin Squash being picked for our recipe!
Now Miller's doesn't just grow Butterkin Squash, they have a HUGE variety of winter squash ranging from hubbard, acorn, honey nut, spaghetti, and more!  They also have a boatload of decorative fall pumpkins and gourds as well as 3 fall festivals every year (the first one coming up soon on October 6th), where they offer pumpkin picking and free wagon rides to their various pumpkin patches!  In their store, you can stop in for some cider, apples, and lots of fresh produce.  Pre-Halloween stop? I think so!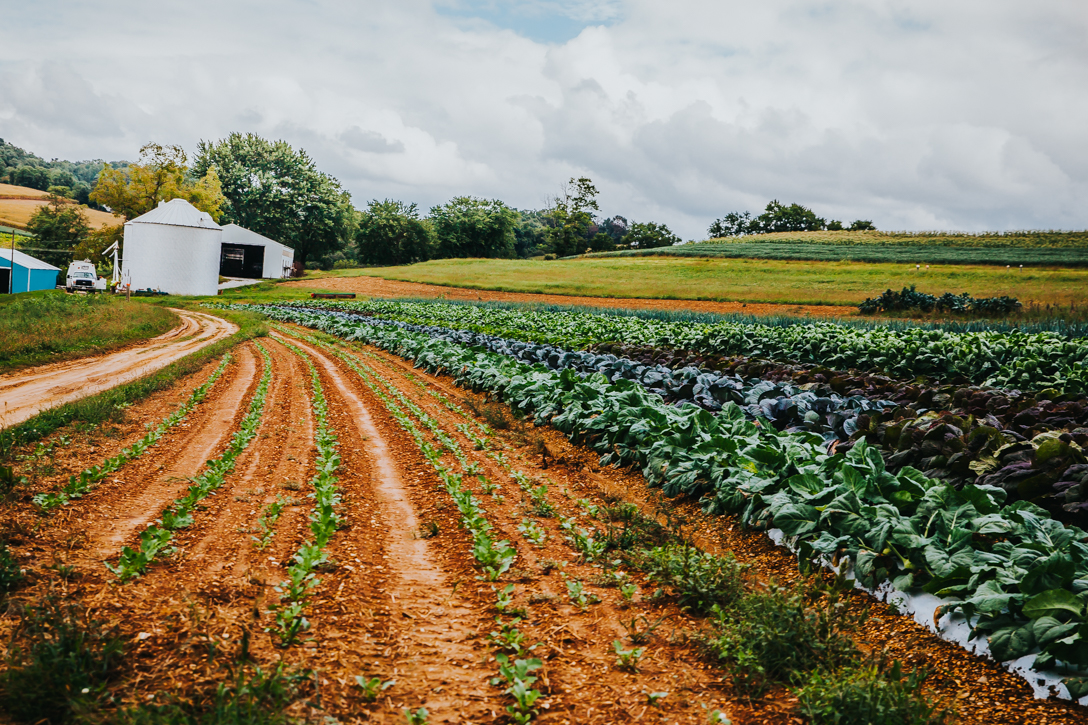 With over 200 acres of farmed land, Miller's is constantly bringing out rotating seasonal produce.  While they're probably most known for their sweet corn, watermelon, and tomatoes, people come from all over to buy their transplant crops.  40% of their business is selling their little seedlings to tons of farms from West Virgina to New Jersey.  The best part?  Depending on season, you can head into their store and buy transplants for your own garden.  Right now, they have a variety of lettuces and greens as well as tons of landscaping plants, succulents and annual varieties.  Many people also know them for their CSA program which starts in June and ends the end of October.  Based on what's in season, your box is sure to be filled with lots of yummy fruits and veggies! And you know what's great?!  We're going to be featuring them a few times this year based on what's in season, next on the docket is all their beautiful cauliflower which comes in a whole rainbow of color, so stay tuned for that yummy recipe! But onto our recipe, Coconut Curry Squash Soup, featuring Miller's Butterkin Squash!
Now I'll be the first to admit that squash are a pain in the butt to chop and peel (if you're buying fresh), so here are some tips and tricks to help you along the way:
To help cutting your squash, with a knife or fork, poke a deep holes in your squash and microwave whole for about 3-5 minutes.  Let cool before cutting but this will soften it just enough that it's easier to cut through.
To help cut and peel, slice off bottom (gives you a solid base) and then slice in half and place flat edge on the cutting board.  This eliminates 'wobbling' of the squash while cutting.
Make sure to use sharp knives with squash!  Dull knives will make cutting squash a lot harder (and dangerous!).
If you're roasting, make sure to cut pieces evenly and coat well with whatever oil you're using, this ensures perfect, even roasting.
To peel, once laid flat of the half you cut, start in the middle of the squash and peel outwards.  Don't feel towards yourself to eliminate finger injuries!
If you're filling squash with stuffing, slice off a flat part off the bottom, so the squash will lay flat and not roll and spill over when you move your pan.
But now, onto our recipe (and your house smelling amaazzinngg)!
Ingredients:
1 medium sized Butterkin Squash (will yield about 6-7 cups), peeled, de-seeded, and chopped (this can be substituted for Butternut, or any other squash, pumpkin would be great too!)
1 large sweet onion, chopped
1 whole jalapeno, de-seeded, chopped
2 large carrots, tops cut off, chopped
5 cloves of garlic
4 T olive oil
2 T curry powder
1 T cumin
1 tsp ground ginger
1 T paprika
1 T garlic powder
1 T black pepper
Pinch of cardamum
1.5 cups of broth (use vegetable for vegan/vegetarian or chicken)
2 – 13.5-13.6 ounce cans of coconut milk (save some of the top hard cream to be melted and drizzled on top of soup)
1/4 cup of pure maple syrup (optional)
Salt to taste
Optional Garnishes: 
Drizzle of coconut milk
Chili garlic oil
Chopped Scallions
Toasted chopped pecans
Instructions:
Peel, deseed, and chop butterkin squash.  Roughly chop onions, jalapeños, carrots, and garlic (everything is getting blended so no need to be perfect!).  On medium-high heat, drizzle olive oil in a large pot and put all the veggies and spices in in. Saute until onions become translucent.  Next add in broth and coconut milk, bring to a boil, then reduce heat to low and simmer for 30 minutes (or until squash has started to break down and it all fork tender).  Stir in maple syrup (optional, I think it adds a nice sweetness). Next in either a blender or with an immersion blender, blend all ingredients till smooth.  This soup is great hot or cold so serve right away or chill and serve later!  Top with garnishes of your choice and enjoy!